2015-2016 School Year
Thanks to all who helped make our Direct Appeal campaign last school year a success. We're off to a great start for the upcoming 2015-2016 school year!
Your gift is extremely important because it offers immediate resources that are directed to our children's current and future needs and opportunities at Q300.
The Q300 Parent-Teacher Association, Inc. (EIN: 47-2258209) is a 501(c)3 non-profit organization. Your charitable contribution is tax-deductible to the extent allowed by law.
Here's How Donate to the Q300 PTA
To Donate Online, click on the Direct Appeal image below: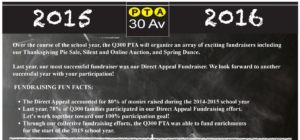 Sending your Donation in by Check
Download, print and fill out the Direct Appeal Contribution Form.
You can send the completed contribution form along with a check payable to the Q300 Parent-Teacher Association, Inc. via your student's communication folder, or by mailing it to the following address:
Q300 Parent-Teacher Association, Inc.
28-37 29th Street
Astoria, NY 11102
Donating to the Q300 PTA throughout the year
On the Contribution form, indicate that you want to pay by installments. The Q300 PTA can accept installment payments by credit card or via automatic payments from your checking account (similar to a recurring bill payment).
If you have any questions, please email fundraising@q300pta.org. Thank you very much for your support!
[attachaway type="table" filenamelabel="direct appeal"]