Thank you for visiting the website of the Q300 Parent-Teacher Association. All parents and guardians of Q300 students as well as all teachers are automatically members of the Q300 PTA. PTA meetings are held monthly. Our goal is to work together to create and maintain a welcoming community for all Q300 families and to support the administration and faculty in building a school that provides outstanding education to our students based on the values of inclusion, inquiry, and responsibility. See here for more information on Q300 and here for more info on Q300 PTA.
---
Recent announcements

Q300 (https://ps300q.org) is hiring TA's for kindergarten through 4th grade for the academic year of 2023-2024. Please see https://ideali.st/6RbDAv or a copy of the job posting below for more info. Applicants should email their resume and any other info to Sonita Ramkishun, Principal of Q300, at principal@q300.org. The posting will close by August 14, 2023. […]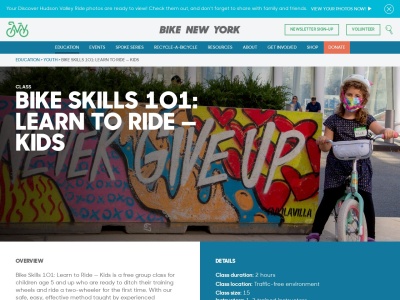 Q300 has shared the following resources available for school-aged children in NYC in summer 2023. NYC Parks' facilities (https://www.nycgovparks.org/facilities): NYC Parks failities in all boroughs offer physical activity to the public throughout the summer. NYC Parks' free outdoor pools (https://www.nycgovparks.org/highlights/places-to-go/pools): Cool off and enjoy the summer at free outdoor pools in every borough. NYC Parks […]
What better way to kick-off the summer reading season, and highlight the importance of both literacy and giving back within our community, than with a Book Swap? Students are encouraged to bring in up to 5 gently used books to donate to the book swap. Books can be brought in any day from now until […]
---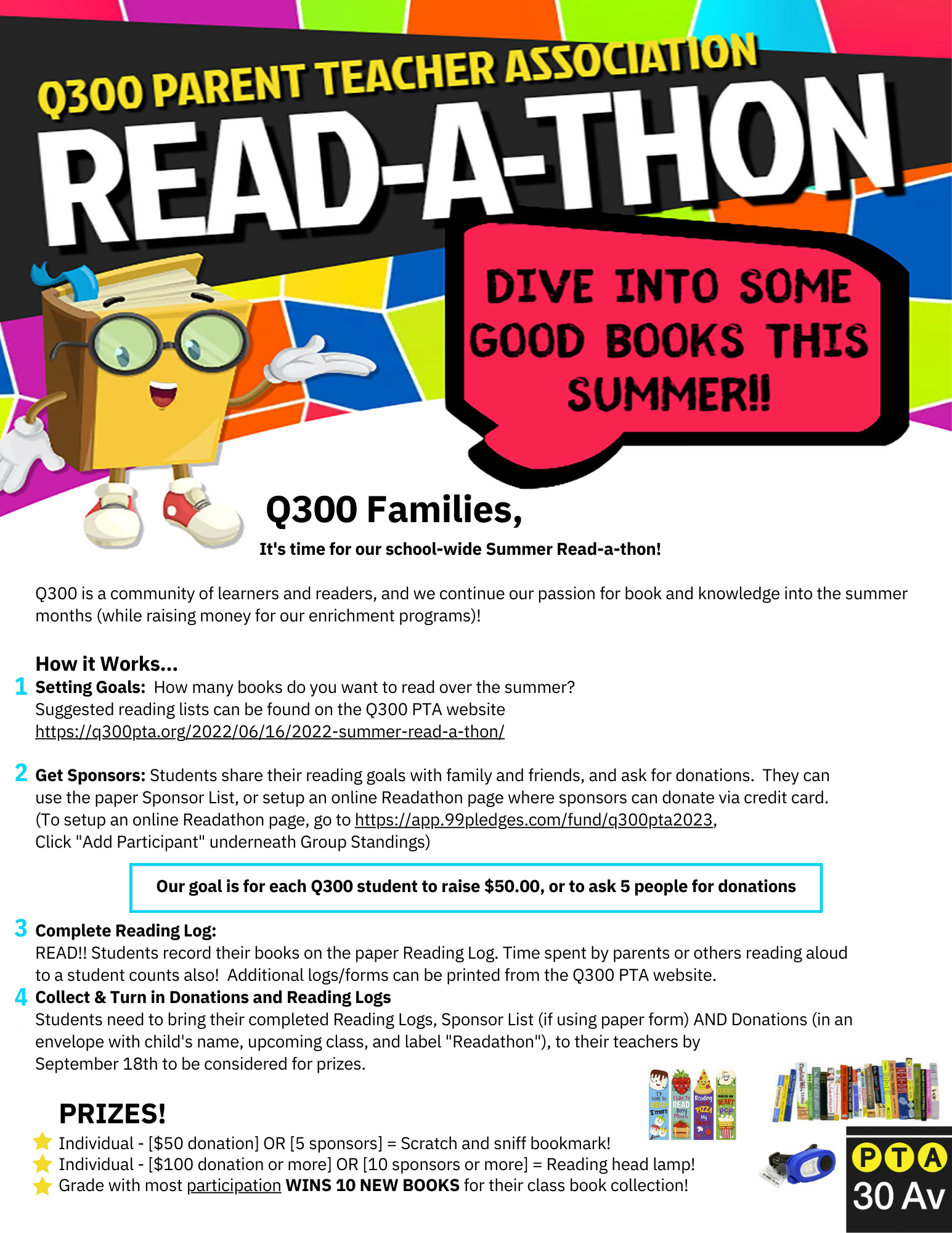 It's time for our school-wide Summer Read-a-thon! Q300 is a community of learners and readers, and we continue our passion for books and knowledge into the summer months (while simultaneously raising money for our enrichment programs)! For questions, contact VP Fundraising at fundraising@q300pta.org. How it Works Setting Goals: How many books do you want to […]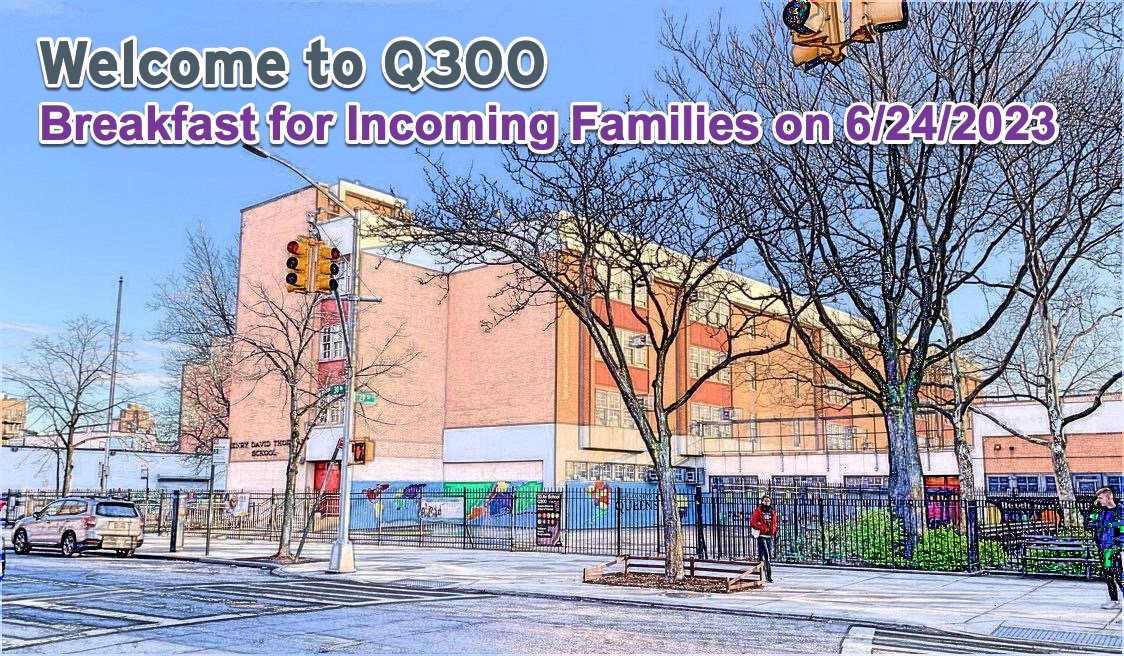 We invite all families who have newly registered Q300 lower and upper division students to join us for a Welcome Breakfast on Saturday, June 24, 2023 from 9:00am to 11:00am ET at our lower division campus at 28-37 29th Street, Astoria 11102. Title: Welcome Breakfast for Incoming Families 2023 Date: Saturday, June 24, 2023 Time: […]
---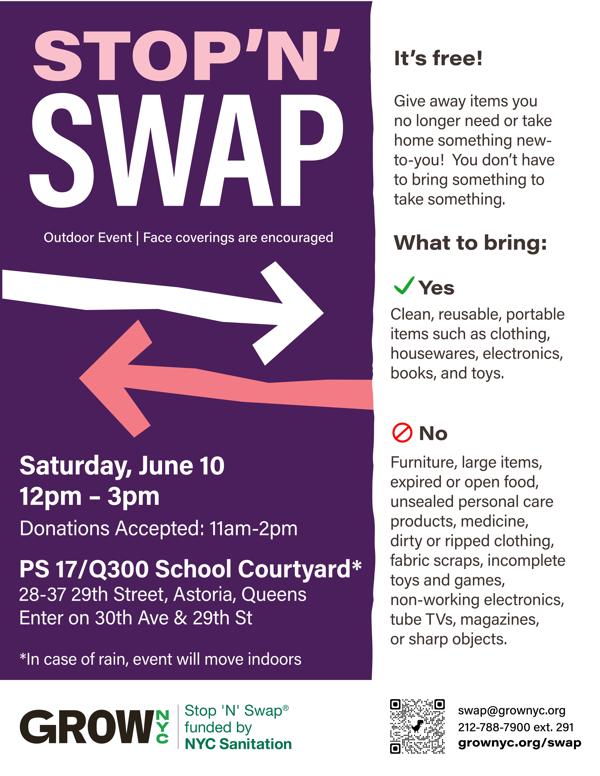 The Stop 'N Swap has been cancelled due to the air quality condition. GrowNYC is hoping to reschedule another one in the near future. Stop 'N' Swaps (https://www.grownyc.org/swap) are free community events where the public's invited to bring clean, reusable, portable items such as clothing, housewares, games, books, & toys that you no longer need, […]
---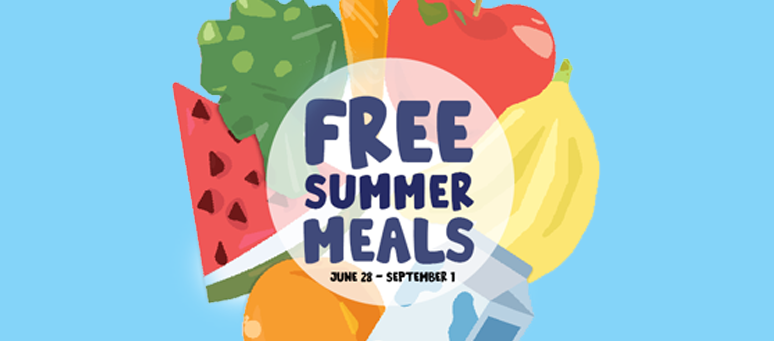 Free breakfast and lunch will be distributed at different locations for all NYC children ages 18 and under. The Summer Meals Program is available throughout New York City at designated public schools, community pool centers, parks, and food trucks. See the latest list of distribution centers at https://cdn-blob-prd.azureedge.net/prd-pws/docs/default-source/default-document-library/summer-311-reports.pdf.
---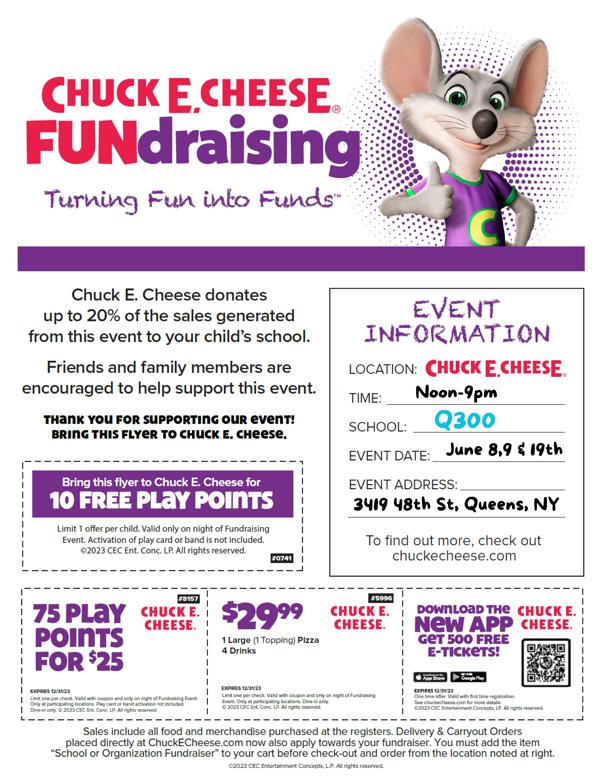 Chuck E. Cheese (3419 48th St, Queens, NY) is offering a great discount & fundraising opportunity for Q300 kids on Friday, April 21, 2023, when kids are dismissed early for half day. Visit Chuck E. Cheese and use the discount coupons below. Our PTA will get 20% kickback of sales. When visiting, let them know […]
---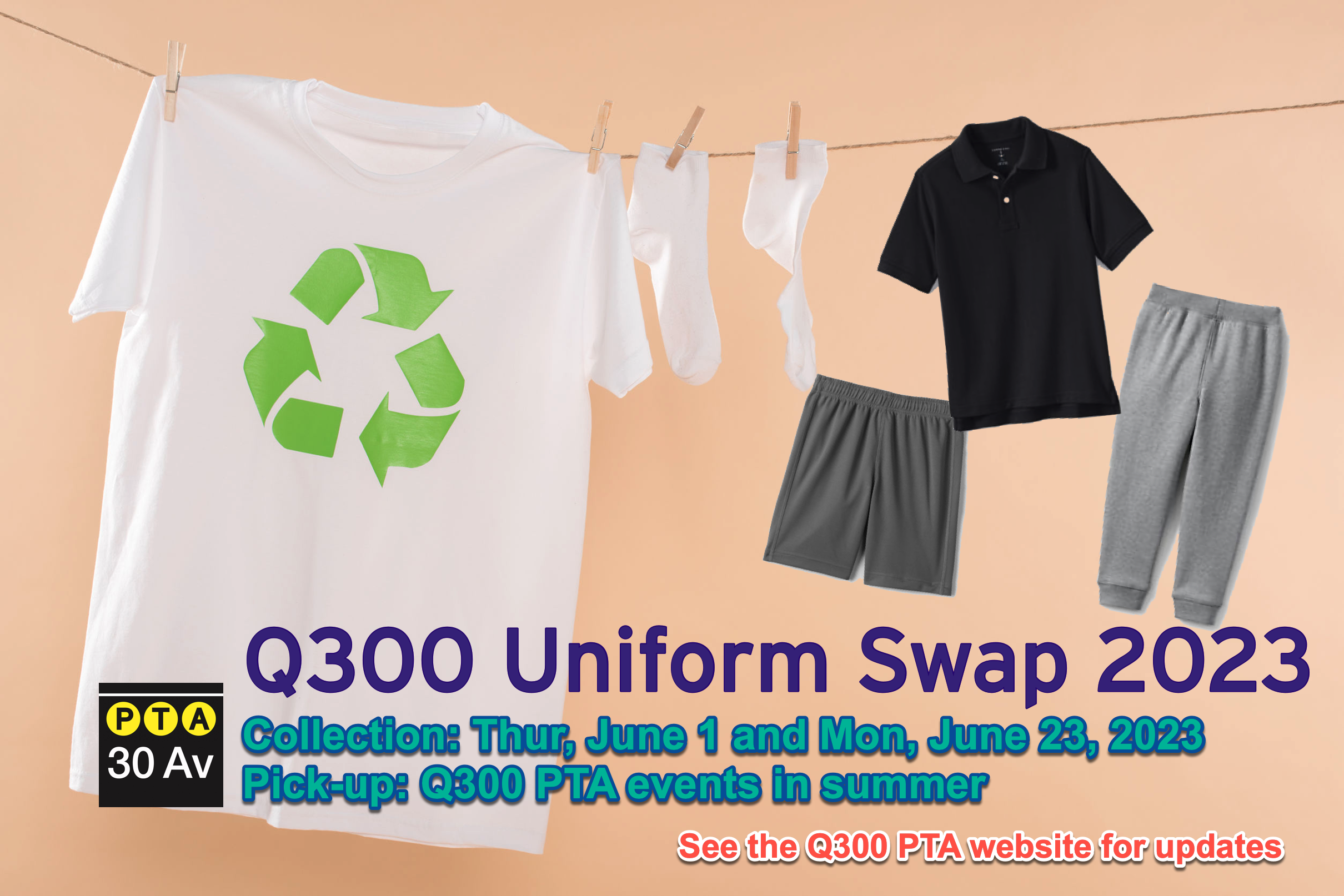 The Q300 PTA organizes a yearly uniform swap event. If you have any preloved, pre-worn, or even new uniform pieces that you'd like to donate for the swap, please bring them between June 1st and June 21st, 2023. Kindly ensure that the clothing is washed and in excellent wearable condition. Drop-Off Uniforms Please donate any […]
---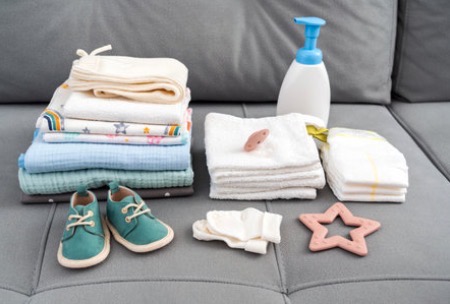 PS17, the co-located school of Q300, has experienced an influx of new students. Approximately 50 families have recently relocated to New York City and are in need of basic items and assistance. Please consider purchasing any of the wishlist items to support our co-located school community. The purchased items will be distributed by the staff […]
---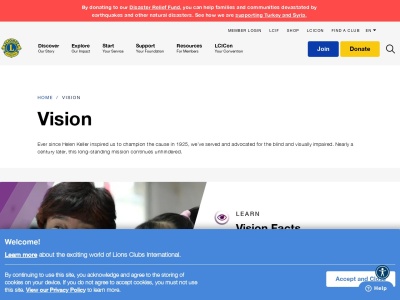 In recognition of May as Healthy Vision Month, the Q300 Wellness Council, UD & LD Student Councils, and the Q300 Green Team are leading a collection of used prescription eyeglasses (for kids, adults, all ages). These will be donated to Lions Club International, who lead an initiative to prevent avoidable blindness and improve quality of […]
---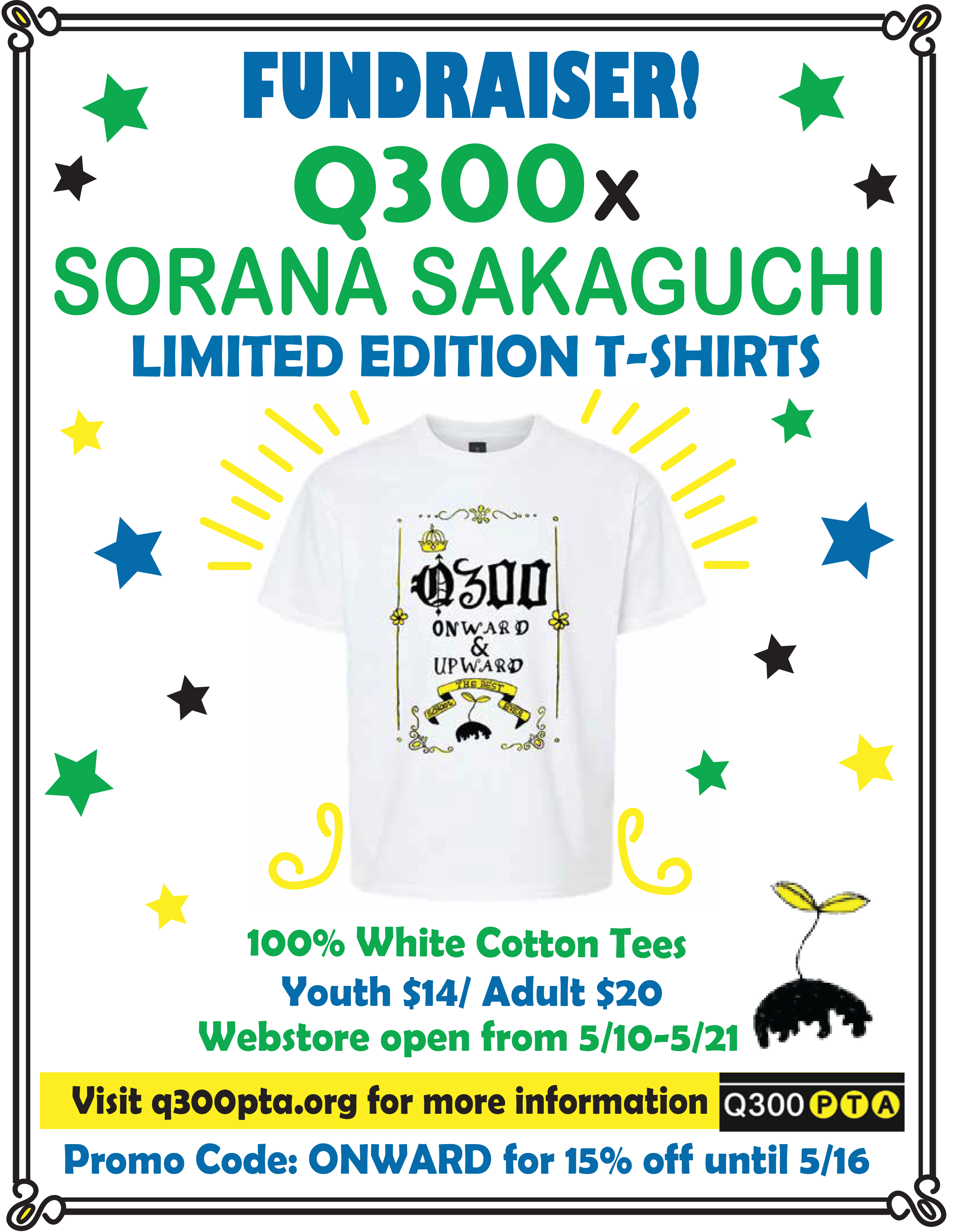 Join us in congratulating, Sorana Sakaguchi of Class 402! Our students and staff voted on 78x design submissions and Sorana's artwork was the overwhelming favorite. Congratulations, Sorana! Sorana's hand-drawn design will be printed on a new school shirt that can be officially worn for gym class, spirit days, field trips and PTA events. The Q300 […]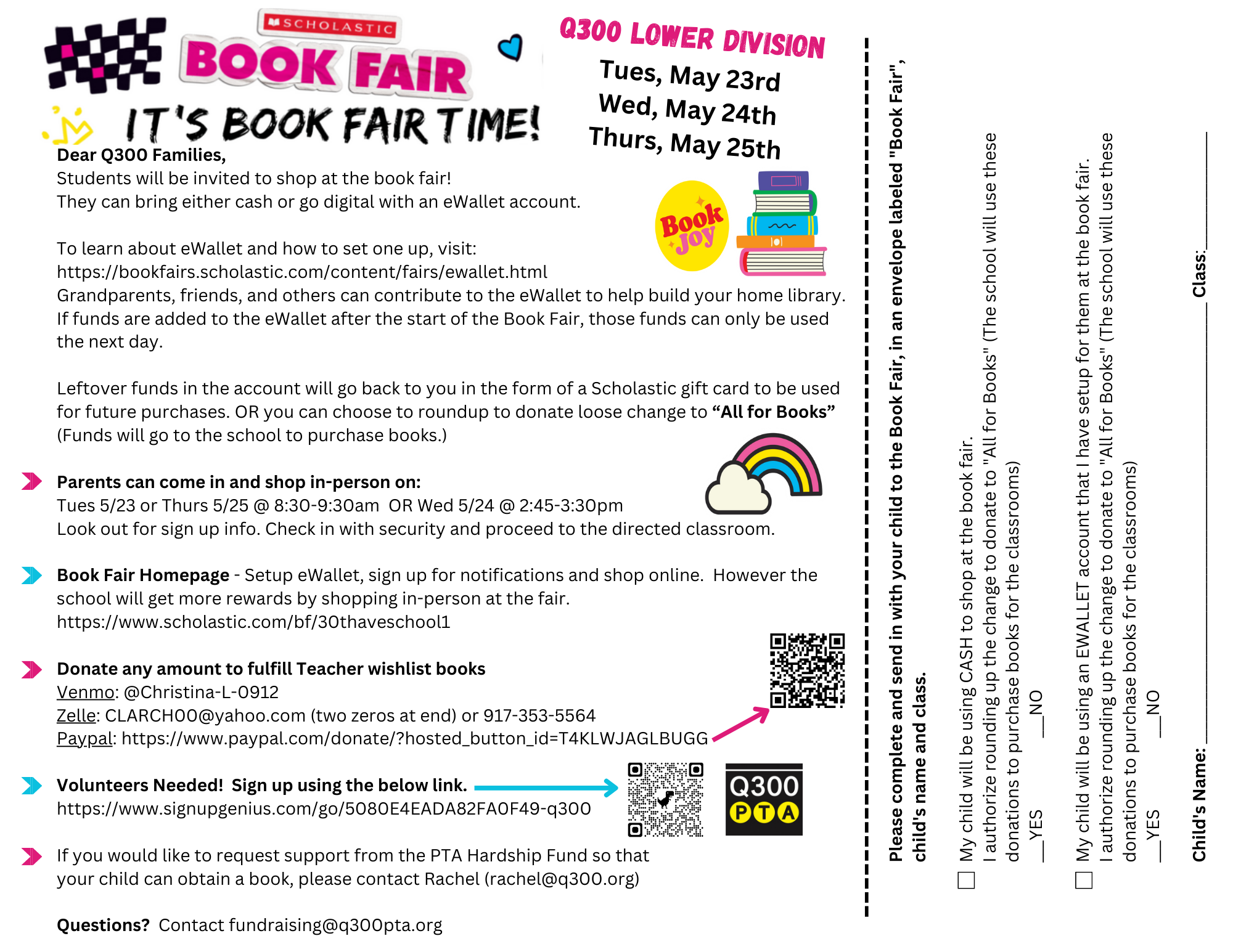 The link in the earlier version of the flyer was not accurate. The correct link is https://bookfairs.scholastic.com/bf/30thaveschool1 (UD) and https://bookfairs.scholastic.com/bf/30thaveschool (LD). Q300 students are invited to shop at the book fair by Scholastic on Monday, May 15 & Tuesday, May 16, 2023 (Upper Division) and Tuesday, May 23 through Thursday, May 25, 2023 (Lower Division). […]
---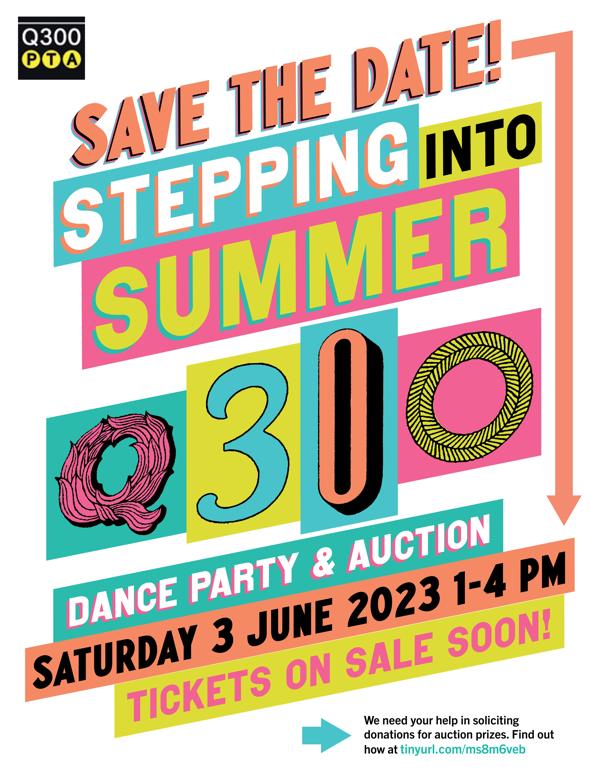 Q300 PTA Stepping Into Summer 2023 on Saturday, June 3, 2023 Title: Q300 PTA Stepping Into Summer 2023 Date: Saturday, June 3, 2023 Time: 1:00pm-4:00pm Place: Katch Astoria (31-19 Newtown Ave, Queens, NY 11102 / https://www.katchastoria.com/) URL: https://q300pta.org/Q300Summer2023 Description: Join Q300 students, parents, and teachers for food, a DJ party, crafts, and a silent auction […]
---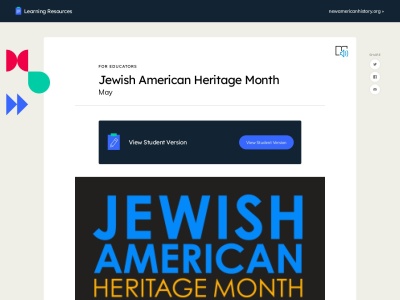 May is Jewish American Heritage Month, a time to celebrate and honor the contributions of Jewish Americans throughout history. Jewish American Heritage Month is a special time of the year when children have an opportunity to celebrate the contributions of Jewish Americans to our country. Just like different foods and holidays, people from different backgrounds […]
---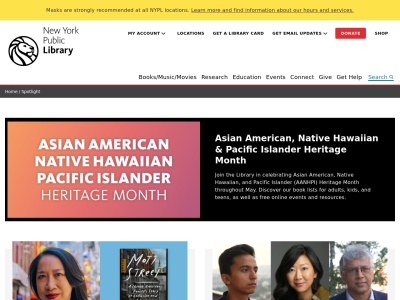 May is Asian American Pacific Islander (AAPI) Heritage Month. We tribute to the generations of AAPI members who have enriched America's history. This is a list of resources for introducing the AAPI heritages to children. Asian American Pacific Islander Heritage Month – Resources – 2023 New York Public Library The NYPL will host a few […]
---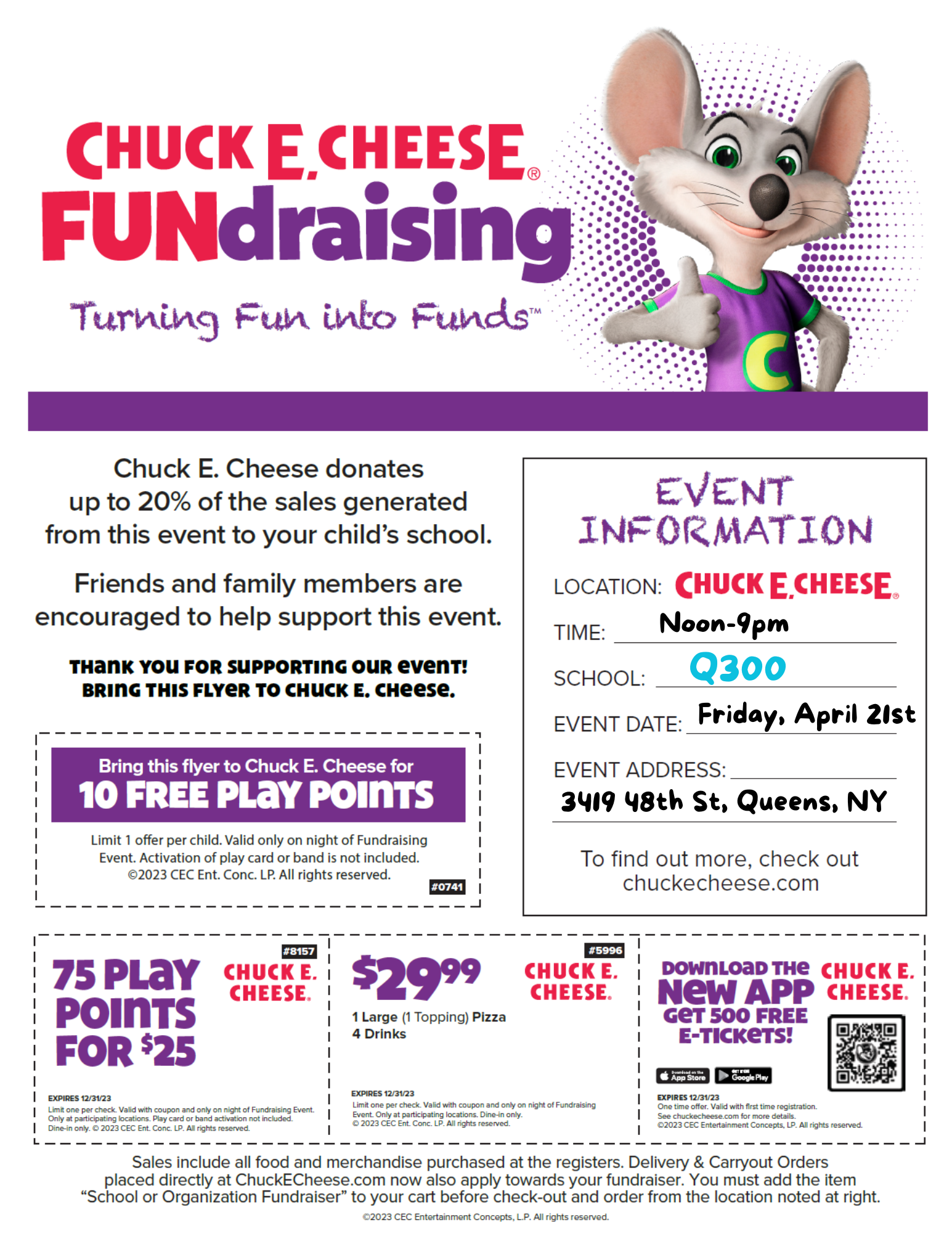 Chuck E. Cheese (3419 48th St, Queens, NY) is offering a great discount & fundraising opportunity for Q300 kids on Friday, April 21, 2023, when kids are dismissed early for half day. Visit Chuck E. Cheese and use the discount coupons below. Our PTA will get 20% kickback of sales. When visiting, let them know […]
---