Q300 PTA Newsletters
Click below to view or download the newsletters and learn all about the latest events and updates.
We welcome your contributions, if you have article ideas or photos for the next newsletter please contact the Q300 PTA Communication Committee (see here for the contact info).
The Q300 PTA also issues Q300 PTA (monthly) Bulletin through Mailchimp. See https://us14.campaign-archive.com/home/?u=8c27b8d903d1a1f86f62fd990&id=192876449f for the archived bulletins.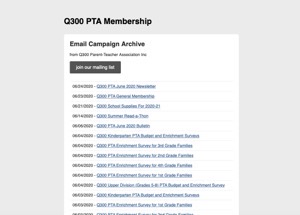 Q300 PTA Newsletter archive