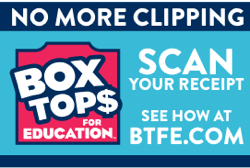 About the Box Tops for Education 2019-2020
General Mills' Box Tops for Education is a nationwide fundraising program that has helped America's schools earn over $600 million since 1996. Your participation in the Box Tops for Education helps the Q300 PTA support educational programs, teaching assistants, social activities and other programs that enhance your students' experience. Q300 earns 10¢ for each Box Top that you clip from participating products and send in. Each participating school can earn up to $20,000 per year in the Box Tops for Education fundraising program.
How to participate
Clipping and Collecting Box Tops
Find Box Tops on hundreds of family products from brands like Cheerios, Betty Crocker, Ziploc, Kleenex, and more. Click here to see a full list of participating products or download a PDF of the list here.
Once you've finished the product, clip the Box Tops from each empty package before recycling or discarding.

Be sure to look over the whole box. Some packages offer bonus Box Tops.

Physical Box Tops clips are being phased out in 2019, but you can still submit Box Tops until Friday, October 4, 2019. Please send all clipped Box Tops with your child to their teacher in a ziploc bag. If you have an old collection sheet with Box Tops, please send that in too!
Collecting eBoxTops online
eBoxTops, like physical Box Tops, are worth 10¢ each for your school. However, instead of clipping these Box Tops and sending them into your school, eBoxTops are awarded electronically to your school earnings at BoxTops4Education.com and will be included in your school's next Box Tops check amount.
You can earn eBoxTops by scanning your receipt for the eligible products with the Box Tops for Education app (https://qrco.de/bb9f1D). In order to use the app, you will have to sign up for the Q300 team on the Box Tops for Education program on their website. See the instructions here.
Enlist Help Collecting Box Tops
Don't limit the giving to your household, enlist family, friends and neighbors. Make a Box Tops for Education collection box and leave it at your work or community center. Make a small sign letting people know where to find Box Tops for Education and what they provide. If you get your whole community involved, you'll be making money for our school in no time.
Resources