Q300 Selected as NYC Junior Ambassadors!
NYC Junior Ambassadors is a new program focused on empowering 7th graders in all five boroughs of New York City to become actively engaged with the United Nations and its mission of addressing the most pressing challenges in the world. By targeting New York City youth at a critical time in their personal and intellectual growth, NYC Junior Ambassadors seeks to help them understand the real connections between themselves, the City of New York, and international affairs
Q300 class 701 is part of the inaugural cohort of NYC Junior Ambassadors!
(73 classrooms applied, 11 were selected, 3 of those selected were in Queens)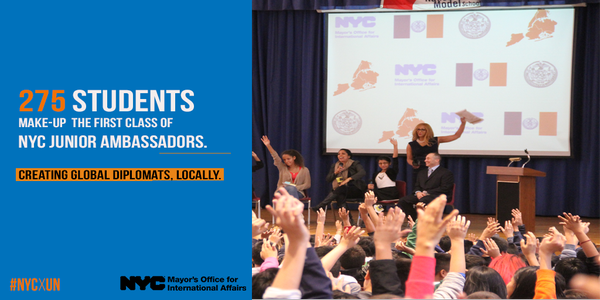 Under the umbrella of the NYC Junior Ambassadors program, 701 will be focusing on human rights in our Literature class. Q300 students are reading texts including, A Long Walk to Water, I Am Malala: Young Reader's Edition, and The Breadwinner. Students will make connections to the work of the United Nations, The Declaration of Human Rights, and further investigate how to become advocates within the global community, specifically for children whose inalienable rights are violated. Students will receive a curricula-curated tour of the United Nations, host a visit from a UN diplomat, and also visit a UN organization that relates to the work we will be doing. They are very excited to participate!
Press Release:
Mayor Bill de Blasio Announces Inaugural Student Cohort of NYC Junior Ambassadors (link)
Further Background Info