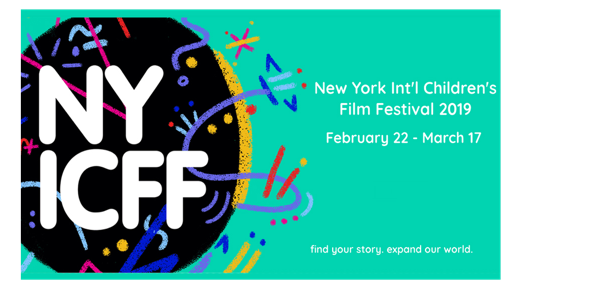 Date: Friday, February 22, 2019 to Sunday, March 17, 2019
Place: Museum of the Moving Image (36-01 35th Ave, Queens) and many other locations
Price: $14 – General Admission
The FINAL WEEKEND of the NY International Children's Film Festival is approaching! This is your last chance to get tickets and raise money for our Q300 PTA. Thank you to those who have already purchased tickets.
View the schedule for the final weekend at https://nyicff.org/festival/2019-program/.
Here are film selections for each age group:
All ages – Moominvalley – tickets were just added to the post popular film of the 2019 Festival!
Ages 5-10 – Short Films One – brimming with stories full of growth and transformation. (Some Q300 2nd grade families will be attending these over the weekend)
Ages 7+ – Friends & Neighbors, Netherlands – Cinekid, The Netherland's premiere film festival for children, comes ashore to share their best films.
Ages 7+ Ailo: A Lapland Odyssey – Follow a young reindeer's first year at close range, filled with moments of puzzlement, wonder, struggle, and delight
Ages 8-14 – Short Films Two – for young audiences growing in experiences and ideas.
Ages 8+ – The Falcons – An Icelandic soccer team encounters their biggest challenge yet! Director in attendance for Q&A!
Ages 8+ – Double Trouble – Heist-meets-art-history caper where nothing and no one is quite what it seems (Poland).
Ages 9+ – Dilili in Paris – Travel to the bustling cafe culture of Paris in the Belle Epoque with Dilili
Ages 10+ – Girls' POV Short Films – A peek into what it is like to be a girl, all over the world
Ages 10+ – Boy Beyond Boundaries – Short films that are redefine how boys can feel, think, and be.
Ages 10+ – Raoul Taburin – Proving that even the biggest champ harbors a little imposter syndrome, Raoul Taburin shows that weaknesses can be strengths when we learn to roll with them together.
Ages 12+ – Short Films Three – Short films covering a wide range of topics, themes and film styles.
To buy tickets AND raise money for our school PTA, simply:
Go to http://nyicff.org/tickets/ and select our school (Q300 30th Ave School) from the "Select My School/School Partner" Menu towards the top (IMPORTANT)
Our PTA earns $3 for each ticket you purchase. ***Fundraising will not apply to purchases made with a discount code or with group discounts.***