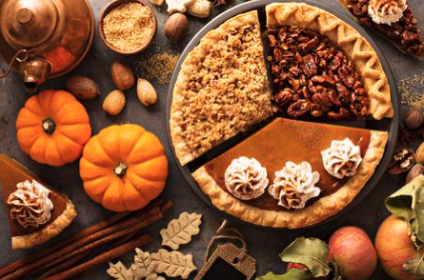 The Q300 PTA is excited to partner with La Guli Bakery of Astoria to provide delicious pies for our Thanksgiving feasts and to help raise funds for school programs. There are four different pies (Apple, Pumpkin, Blueberry, and Cherry) and each 8-inch pie costs $17.
Order online here with a credit card or use this paper form (the deadline of the paper-based order is Friday, November 8, 2019) and return to school with a check made out to Q300 PTA in a sealed envelope. The price for the pie will be $17.75 online as it will include $0.75 processing fee.
Online pie sales have been closed.
Both online and paper-based pie sales from La Guli Bakery have been closed. For inquiries, please contact the Fundraising Committee (Claire Lui at ClaireL[at]q300pta.org).
---
In addition to La Guli Bakery in Astoria, Betty Bakery in Brooklyn is also participating in the Q300 PTA's Thanksgiving fundraising.
Every pie purchased using the following link will generate a $6 donation to the Q300 PTA:
https://betty-bakery.myshopify.com/collections/q300-thanksgiving-pie-fund-raiser. Last day to order at Betty Bakery is this Saturday, November 16th, 2019.
A couple of notes:
You can choose to pick up the pies at the bakery or from Q300
Q300 pickup will be at the same time as the other pickup
When you order, you can choose per item where you'd like to get your pie. You can also choose at checkout (limits of technology).
Pickups from the Bakery in Brooklyn will be your choice. We'll be open Thanksgiving Day until Noon.
Questions regarding pie orders from Betty Bakery should be directed to the Fundraising Committee at fundraising

q300pta.org.