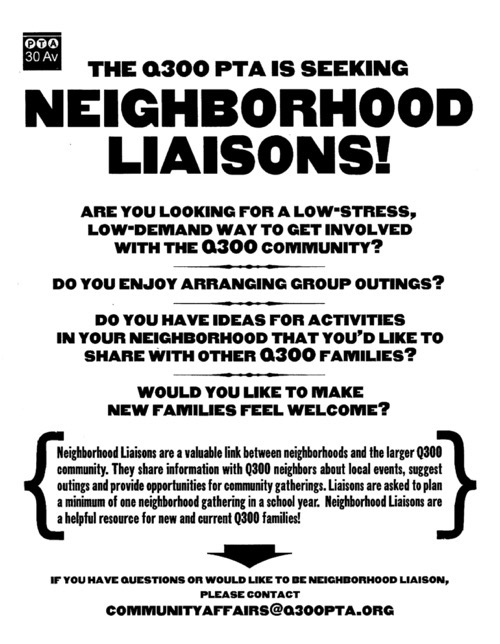 The Q300 PTA is seeking Neighborhood Liaisons! Are you looking for a low-stress, low-demand way to get involved with the Q300 community?; Do you enjoy arranging group outings?; Do you have ideas for activities in your neighborhood that you'd like to share with other Q300 families?; Would you like to make new families feel welcome?
Neighborhood Liaisons are a valuable link between neighborhoods and the larger Q300 community. They share information with Q300 neighbors about local events, suggest outings and provide opporutnities for community gatherings.
Liaisons are asked to plan a minimum of one neighborhood gathering in a school year. Neighborhood Liaisons are a helpful resource for new and current Q300 families!
See https://q300pta.org/pta/volunteer-neighborhood-liaisons/ for more information about the neighborhood liaison. If you have questions or would like to be neighborhood liaison, please contact at communityaffairs

q300pta.org