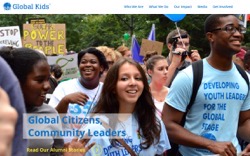 For 6th-8th grade families, Global Kids is starting its online after school programming, starting today September 10th at 3pm! Students may start today (for the kick off party), and enrollment forms will be sent out by the end of the week. Enrollment is open and ongoing throughout the year. Please email Andrea Canova for more details: andrea@globalkids.org or visit https://globalkids.org.
Here is a timeline:
GK Remote After-school starts this Thursday, Sept 10 / 3pm to 5:30pm
Timeline
9/10/2020 & 9/11/2020 – GK – MS Welcome Back Party on Zoom
9/14/2020 to 9/25/2020 – GK – MS Open House (Enrichment Club Sampler)
9/28/2020 to 10/2/2020 – GK -MS Afterschool Orientation & Bridge Programming
10/5/2020 to 12/18/2020 – GK – MS Remote Afterschool
Welcome Back Party (Sept 10 & 11 from 3-5pm)
Two days of fun, community building, games, dance parties, & virtual trips
MS Open House (Sept 14 – Sept 25 from 3-5:30pm)
We are giving young people the opportunity to sample all the enrichment clubs offered outside of Leadership, Peacekeepers, and Digital Learning & Leadership (DLL) this Fall:
Minecraft
Writing Club
Spanish
Yoga
Dance
Global Arts
Photography
Cooking Club
Funny Girls
Bro Code
MS Orientation and Bridge Program (Sept 28 – Oct 2 from 3-5:30pm)
Day 1 – GK Overview
Day 2 – Online Safety
Day 3 – Bridge Day 1
Day 4 – Bridge Day 2
Day 5 – Bridge Day 3
Remote Afterschool (Oct 5 – Dec 18 from 3-5:30pm)
Regular GK Programming begins and will include 2 days of the enrichment clubs listed above and 3 days of GK Core Curriculum: Leadership, DLL, and Peacekeepers.