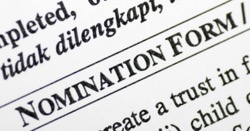 We are looking for volunteers to serve on the Nominations Committee to help (a) identify candidates for the PTA board and for the 3 parent/guardian positions on the School Leadership Team (SLT) and (b) administer the elections virtually that will be occur on Thursday, October 22, 2020 at 5:30 pm EDT.
The Committee's responsibilities include canvassing the community for eligible candidates, preparing materials related to the election (including candidate bios) and running the election virtually. The NYC Department of Education recently issued guidance on how to run a virtual election and has recorded virtual trainings on the election process.
We need 3 to 5 Committee members. Committee members must be a parent or guardian of a Q300 student. Please note that a person who is running for a position or is employed at Q300 are not eligible to serve on the Nominations Committee.
Please email nominations[at]q300pta.org if you are interested in serving on the Nominations Committee.