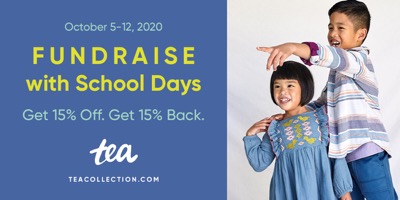 Q300 PTA is participating in Tea Collection Tea Days Fall Fundraiser again. Tea Collection is a children's clothing company that sells cute clothes from sizes 0 to 16.
The fundraiser starts midnight on Monday, October 5, 2020 and valid through Monday, October 12, 2020. By entering our code into the "promo code" box at checkout, you will receive a 15% discount on your order and the Q300 PTA will also receive 15% of the proceeds from your order. So start browsing on the website, http://www.teacollection.com,  and get ready to shop Monday at midnight!
Our unique promo code for Q300 PTA is:  SDF20Q300PTA
Fine print: Please feel free to share with friends and family, but do NOT share with the coupon sites (Coupon Cabin, etc.). Codes shared with the coupon sites will get our discount code banned.
Thank you and happy shopping!