The deadline for the Q300 Pizza Fundraiser 2022 has been extended to Friday, March 18, 2022.
Order Pizza Kits from Little Caesar's from Thursday, February 10, 2022 to Friday, March 11, 2022. Make pizzas and dessert during Mid-Winter Break, or get ready for March Madness! Have a pizza-making party! Part of your order will help Q300 PTA raise fund for enrichment classes, PPE, end-of-year grade celebrations and more. Order at https://fundraising.littlecaesars.com/fundraisers/support/ 39ca6176-9da5-428a-aa1f-7edb2ef875e8.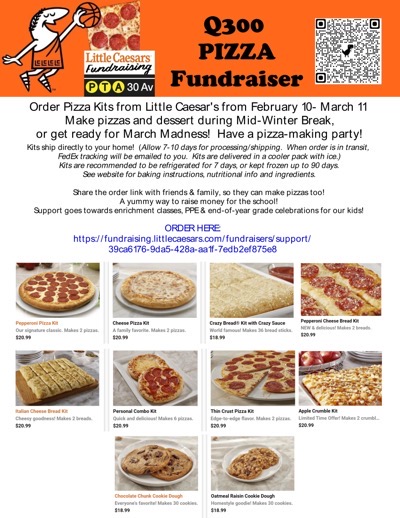 Kits ship directly to your home. Allow 7-10 days for processing/shipping. When order is in transit, FedEx tracking will be emailed to you. Kits are delivered in a cooler pack with ice.
Kits are recommended to be refrigerated for 7 days, or kept frozen up to 90 days. See the website below for baking instructions, nutritional info and ingredients.
Share the order link with friends & family, so they can make pizzas too! A yummy way to raise money for the school!
For questions, email fundraising@q300pta.org.