Please join us for a fun and fitness-filled evening via Zoom on Friday, March 25, 2022 from 5:30pm – 7:00pm. We will be once again co-sponsoring our annual Zumba-thon with the PS 17 PTA.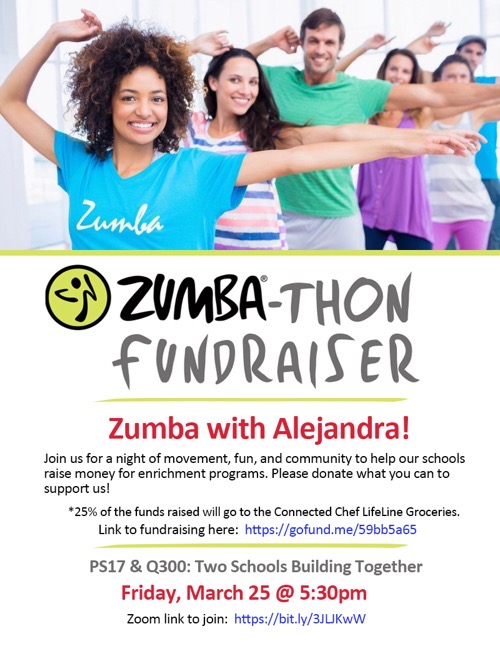 The Q300 and PS17 PTAs are so proud to be co-sponsoring our annual Zumba-thon! The amazing Alejandra Villadiego will conduct an hour class to which we all can Zumba!
While we will raise money for enrichment programs and supplies for all our students at both schools, we will also donate a portion to The Connected Chef's Lifeline Groceries Program (https://theconnectedchef.com/lifeline-grocery-packages//). They continue to provide nutrient dense groceries and food to families in need in Western Queens.
The class will be geared towards adults, but if you think your child can handle it, they are more than welcome to join us (and get their own pledges)! No Zumba experience is required. Alejandra creates a supportive and fun-filled environment where we can all have a good time.
Here are ways to participate:
To RSVP and join us for this event, please register here with this Registration link (https://bit.ly/3JLJKwW). It is free to participate and open to all in the Q300 and PS 17 communities.
If you would like to raise funds, join the Zumbathon GoFundMe (https://gofund.me/59bb5a65) and share the link with your friends and families to get them to donate. You can promote on your social media!
If you are not able to join us, please consider sponsoring one of the other teams on the fundraising page.
If you have any questions, please contact the co-VP of Fundraising at fundraising@q300pta.org.