Q300 PTA Stepping Into Summer 2023 on Saturday, June 3, 2023
Title: Q300 PTA Stepping Into Summer 2023
Date: Saturday, June 3, 2023
Time: 1:00pm-4:00pm
Place: Katch Astoria (31-19 Newtown Ave, Queens, NY 11102 / https://www.katchastoria.com/)
Description: Join Q300 students, parents, and teachers for food, a DJ party, crafts, and a silent auction and raffle. Early bird tickets will be closed on Friday, May 19, 2023. To purchase tickets, send check or cash along with this form in an envelope labeled PTA: AUCTION TICKETS, or purchase tickets online at https://tinyurl.com/358uj7bn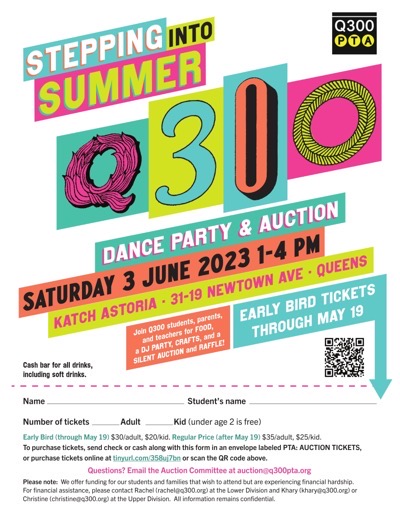 Ticket Sale
Early bird tickets will be closed on Friday, May 19, 2023. To purchase tickets, send check or cash along with this form in an envelope labeled PTA: AUCTION TICKETS, or purchase tickets online at https://tinyurl.com/358uj7bn
Call For Donations
We need you, our parent community, to help us by donating to the auction or soliciting prizes. What sort of donations are we looking for? Do you have a favorite local shop? Have your kids taken a class they've loved? Do you have a favorite restaurant? Museum? Spa? Kid experience? Do you have a skill or talent you can offer our community? Do you have a vacation home you can offer time at?
Now's the time to reach out to see if the organizations you support can help support our school!
We also LOVE parent experiences! In the past, we've had parents donate homemade meals, professional consultations, photo shoots, and more. Maybe an hour of conversation in your native language? Maybe a pie-crust making demonstration? What can your family offer our community? Any questions, please reach out to auction@q300pta.org! Parent experiences can be limited to the Q300 community to bid on if you'd like.
We depend on our parent community for the fabulous prizes we auction off at the silent auction at the event, as well as in our online auction that reaches a broader audience. Requesting prizes is so simple and businesses often love the exposure. Feel free to use this formal letter or sample email when you reach out to a business or organization.
Let us know about any donations by filling out this form ( https://forms.gle/WXimekSjhfk7qTMP8). Please be as detailed as possible and include all items restrictions, expiration dates etc.