We invite all families who have newly registered Q300 lower and upper division students to join us for a Welcome Breakfast on Saturday, June 24, 2023 from 9:00am to 11:00am ET at our lower division campus at 28-37 29th Street, Astoria 11102.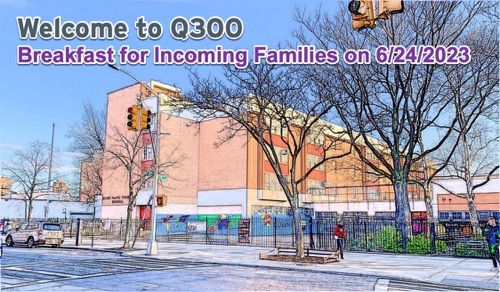 Title: Welcome Breakfast for Incoming Families 2023
Date: Saturday, June 24, 2023
Time: 9:00am to 11:00am
Place: Q300 Lower Division (PS 17 building; 28-37 29th St, Astoria, NY 11102)
To the current Q300 parents: We are seeking volunteers to help welcome incoming families to Q300. We need help tabling breakfast food and drinks, meeting new families, answering their questions, overseeing a uniform swap and organizing playground activities. Please fill out the Google volunteer form: https://forms.gle/na6BzaCabt8hZSk69.
For inquiries, contact membership@q300pta.org.