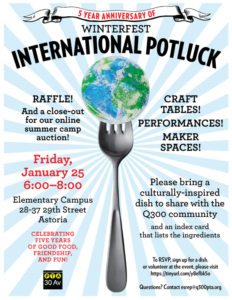 Date: Friday, January 25th, 2019
Time: 6:30pm-8:00pm
Place: PS17 campus (28-37 29th St, Astoria, NY 11102)
Our 5th annual Winter International Potluck and Festival will be on Friday, January 25th at the Elementary School Campus from 6:30-8 pm.  This is a school wide event! K-8 extravaganza!  This is a lovely community event where every brings dishes from all over the world!
We also have craft tables, activities, and raffle and auction prizes while eating great food.  This event is a tradition and was the FIRST EVER Q300 school-wide event (originally in November 2014) and we will be celebrating our 5th year as a school!
There will be items raffled and auctioned at the event (restaurants, toys, gift cards, etc…) but the emphasis on the camp prizes (which will launch before the event).  Please help us get great prizes!  We already have some which are listed below!  Winter Festival Prize Form

To RSVP and/or volunteer, go to this link:  RSVP and Help!
Sneak Peak at Current Prizes (some to be auctioned, others raffled)
Camp Ballibay: $2,250 voucher for the fine and performing arts sleep-away summer camp in PA for summer 2019, new camp families only, for ages 8-16 years
92Y Camps: $300 voucher for 92Y's Camp Yomi, Yomi Seniors, Trailblazers, or Ilanot for summer 2019, new camp families only
Journey's End Farm Camp: 2 camp vouchers for sleep-away summer camp on a family farm in Newfoundland, PA, for ages 7-12 years
NYC Elite Gymnastics summer camp: One week of summer camp
Kaufman Music Center: 2 concert tickets
Kweller Prep SHSAT and Hunter Prep Courses: $500 vouchers for Summer 2019 and Fall 2019 respectively
Premier Chess Group Lesson: One hour chess lesson for up to 10 kids or adults, taught by CEO and Chess Master Eric Rabin
Rioult Dance Center: 50% of Spring tuition dance classes
Ahava Skin care set ($250 value)
Micheal Kors handbag ($250 value)
Launch Math and Science center: $250 camp or class voucher