Q300 (http://ps300q.org) is hiring TA's for kindergarten through 4th grade for the academic year of 2022-2023. Please see below for the qualifications and responsibilities. For inquiries, contact Sonita Ramkishun, Principal of Q300, at principal@q300.org.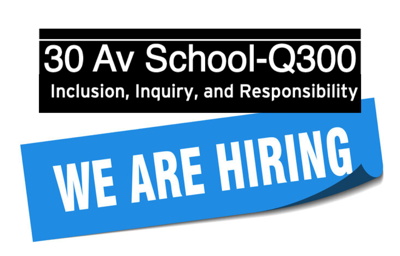 ---
Q300 is seeking teacher assistants to support classes from grades Kindergarten to 4th for 2022-2023.
Qualifications:

Minimum of 2 years in college or an Associate degree
Working towards a degree in Education (Preferred not required)
Experience working with students between ages of 5 years old to 10 years old
Background knowledge in social emotional learning and supporting positive classroom environment

Job Responsibilities:

Build rapport with classroom teacher and students in assigned class
Support teacher in daily duties but not limited to, preparing and setting up activities, grading, organizing, filing, etc.
Support students in small groups during throughout the day in multiple subjects
Assist and supervise students during Recess, Lunch, Arrival, Dismissal, and Busing
Work as a team to support the needs of the school building and school community

Job Types:
Salary:
Schedule:
COVID-19 Considerations:

All applicants applying for this position will have to adhere to the DOE building entry requirements. Currently, all employees and visitors are required to show proof of vaccination and complete a DOE health screener to enter the building.

Work Location:
This is a PTA Funded Position not a Department of Education position.
All interested candidates should email principal@q300.org with an attached resume. Please Note: This position does not pay on weekends, holidays, or days students are off from school.