In honor of Random Acts of Kindness Day on February 17th the Q300 PTA would like to invite the Q300 community to once again participate in a Kindness Challenge. The Kindness Challenge will run from Monday, February 13 to Tuesday, February 28, 2023.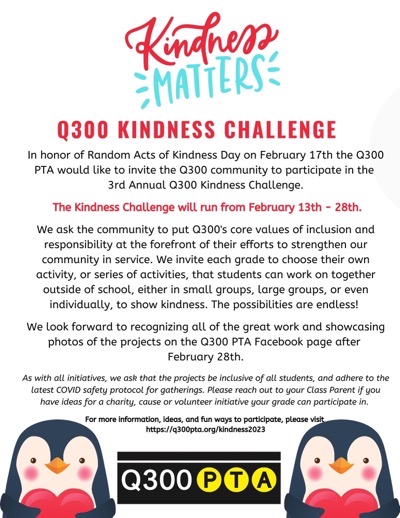 We ask the community to put Q300's core values of inclusion and responsibility at the forefront of their efforts to strengthen our community in service. We invite each grade to choose their own activity, or series of activities, that students can work on together outside of school, either in small groups, large groups, or even individually, to show kindness. The possibilities are endless!
We look forward to recognizing all of the great work and showcasing photos of the projects on the Q300 PTA Facebook page after Tuesday, February 28, 2023.
As with all initiatives, we ask that the projects be inclusive of all students, and adhere to the latest COVID safety protocol for gatherings. Please reach out to your Class Parent if you have ideas for a charity, cause or volunteer initiative your grade can participate in.
Below is just a small list of local charities, and ideas for service projects which can serve as inspiration for your grade's project. We encourage you to collaborate amongst your grade's families to help come up with a project or projects that are most meaningful to the group.
For more information, ideas, and fun ways to participate, please visit https://q300pta.org/kindness2023.