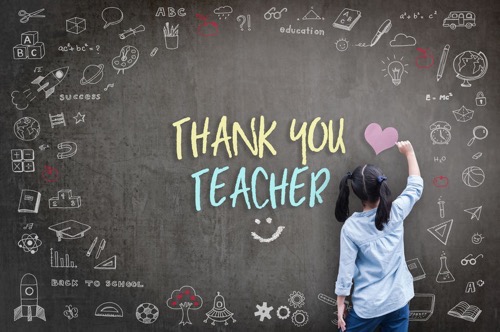 Teacher Appreciation Week (Monday, May 6 – Friday, May 10) is coming up! One of the things we would like to do is send notes of appreciation to our teachers and staff and then convert this into a giant poster – one for each campus. This is where we need your help!
We are collecting notes for all members of the Q300 staff through his google form. https://forms.gle/7VpGEhgMvib1R38w9
You can fill this out with your child (or have them fill it out on their own – depending on age obviously). We have made it easy for you and have created a drop down box for all teachers and staff (including cluster and specials teachers, administrators, secretaries, parent coordinator, paraprofessionals, TAs, etc..). You can fill out the form multiple times if there are several folks that your child wants to thanks!
Please fill out the form(s) by April 29, 2019 (the absolute latest) so we can then create and print the poster.
---
[Edit on Saturday, April 6, 2019]
If you are interested in using your children's handwritten notes, please submit your request online and write "I will bring a handwritten note." Hopefully we can ask kids to write their messages on small paper (e.g., index cards). Then please bring your handwritten notes and paste them there during the week of the Teacher Appreciation Week.
[More Edit on Saturday, April 6, 2019]
We need several good group photos of teachers (for both Lower Division and Upper Division). Please send photos to tomonori.nagano

gmail.com if you have good photos of our teachers/staff.