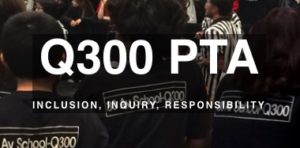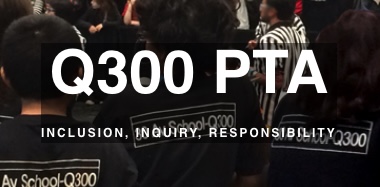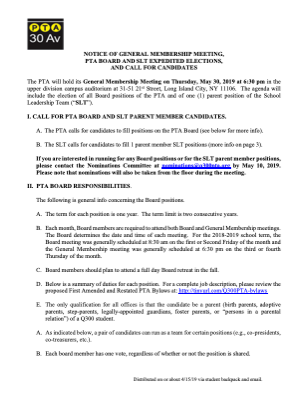 Notice of General Membership Meeting, PTA Board and SLT Expedited Elections, and Call for Candidates
The PTA will hold its General Membership Meeting on Thursday, May 30, 2019 at 6:30pm in the upper division campus auditorium at 31-51 21st Street, Long Island City, NY 11106. The agenda will include the election of all Board positions of the PTA and of one (1) parent position of the School Leadership Team ("SLT").
Call For PTA Board And SLT Parent Member Candidates
A. The PTA calls for candidates to fill positions on the PTA Board
B. The SLT calls for candidates to fill 1 parent member SLT positions
If you are interested in running for any Board positions or for the SLT parent member positions, please contact the Nominations Committee at nominations@q300pla.org, by May 10, 2019. Please note that nominations will also be taken from the floor during the meeting.
For more information, please read the official call for candidates document in your child's backpack or e-mail.