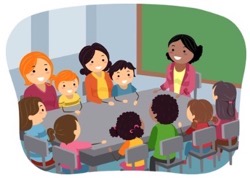 Q300 PTA is calling on parents/guardians to run for positions on the PTA Board and two (2) SLT parent member positions.
The only qualification for all offices is that the candidate be a parent/guardian (including birth parents, adoptive parents, step-parents, legally-appointed guardians, foster parents, or "persons in a parental relation") of a Q300 student. (Please note that a parent/guardian may not serve on the Board or SLT in the school in which they are employed.)
A pair of PTA board candidates can run as a team for certain positions (e.g., co-presidents, co-treasurers, etc.).
If you are interested in running for any Board positions or for the SLT parent member positions, please contact the Nominations Committee at nominations@q300pta.org by Friday, June 11, 2021. Please note that nominations will also be taken from the floor during the meeting.
See this document (Translation: Spanish | Russian | Korean | Chinese | Bengali | Japanese ) for more information.