In honor of Random Acts of Kindness Day on February 17th the Q300 PTA would like to invite the Q300 community to once again participate in a Kindness Challenge. The Kindness Challenge will run from February 13th – 27th, 2022.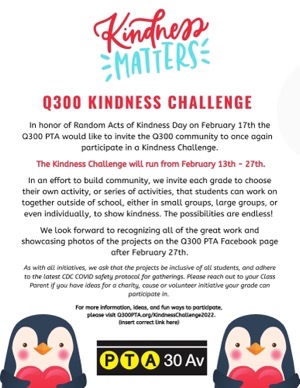 Below are a few ways to participate:
Kindness Challenge Group Activity
In an effort to build community, we invite each grade to choose their own activity, or series of activities, that students can work on together outside of school, either in small groups, large groups, or even individually, to show kindness. The possibilities are endless!
We look forward to recognizing all of the great work and showcasing photos of the projects on the Q300 PTA Facebook page after the February 27th, 2022.
As with all initiatives, we ask that the projects be inclusive of all students, and adhere to the latest CDC's COVID safety protocol for gatherings. Please reach out to your Class Parent if you have ideas for a charitable cause, community initiative or volunteer project your grade can participate in.
Random Acts of Kindness Ideas List
Check out the attached list of ideas to inspire your acts of kindness. Remember, there are so many ways we can be kind, to our friends, family, teachers, neighbors, community, animals, our planet, and even ourselves! Feel free to be creative and come up with your own unique ideas for showing kindness.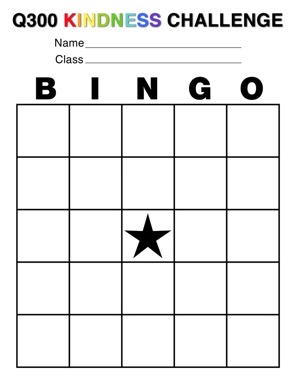 Picture Books About Kindness
Kindness Makes Us Strong  by Sophie Beer, 2019  
A Sick Day for Amos McGee  by Philip C. Stead; illustrated by Erin E. Stead, 2010  
Be Kind  by Pat Zietlow Miller; illustrated by Jen Hill, 2018  
Have You Filled a Bucket Today?](https://www.amazon.com/gp/product/0996099948/ref=as_li_tl?ie=UTF8&tag=rosemardurso-20&camp=1789&creative=9325&linkCode=as2&creativeASIN=0996099948&linkId=a749f9013dc551367e15e7d159df4f72)   [A guide to daily happiness for kids  by Carol McCloud; illustrated by David Messing, 2006  
A Hat for Mrs. Goldman: a story about knitting and love  by Michelle Edwards; illustrated by G. Brian Kara, 2016  
Those Shoes  by Maribeth Boelts; illustrated by Noah Z. Jones, 2007  
I Walk With Vanessa: a story about a simple act of kindness  by Kerascoet, 2018  
A Chair for My Mother by Vera Williams 
Stand Tall, Molly Lou Melon by Patty Lovell, illustrated by David Catrow 
The Invisible Boy by Trudy Ludwig, illustrated by Patrice Barton 
We're All Wonders  by R. J. Palacio 
Enemy Pie by Derek Munson 
Extra Yarn by Mac Barnett 
Last Stop on Market Street by Matt de la Pena 
Lend a Hand: Poems About Giving by John Frank 
All Are Welcome by Alexandra Penfold, illustrated by Suzanne Kaufman  
My Heart by Corinna Luyken 
The Big Umbrellaby Amy June Bates 
The Power of One by Trudy Ludwig 
What is Given From the Heartby Pat McKissack 
The Lion & the Mouse by Jerry Pinkney 
Each Kindness by Jacqueline Woodson 
One Green Apply by Eve Bunting 
Boo Why?by Ben Clanton 
How to Heal A Broken Wing by Bob Graham 
Horton Hears a Who by Dr. Seuss 
Chapter Books About Kindness
The Hundred Dresses by Eleanor Estes 
Wonder  by R. J. Palacio 
Freeing Finch  by Ginny Rorby 
See You in the Cosmos  by Jack Cheng 
The Boy at the Back of the Class  by Onjali Q. Raúf 
Each Tiny Spark by Pablo Cartaya 
A Dog Called Homeless  by Sarah Lean 
The Seventh Most Important Thing  by Shelley Pearsall 
Strange Birds: A Field Guide to Ruffling Feathers  by Celia C. Pérez 
Wish by Barbara O'Connor 
Roll with It  by Jamie Sumner 
Just Mercy (Adapted for Young Adults)  by Bryan Stevenson 
Jackpot by Nic Stone 
Scars Like Wings  by Erin Stewart 
Darius the Great Is Not Okay  by Adib Khorram 
Stargirl by Jerry Spinelli 
Finding Audrey  by Sophie Kinsella