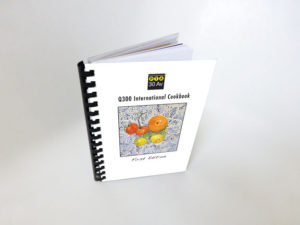 First Edition
Inspired by our annual International Potluck the Q300 PTA is proud to announce the our first ever Q300 International Cookbook
Inspired by our annual International Potluck the Q300 PTA is proud to announce the our first ever Q300 International Cookbook. It's available in printed format now. Ebook format coming soon.
Click here to see a sample of the cookbook
Enter your email address and Student's name (for Delivery) and Click "Buy Now" below to get yours now!
We collected 57 recipes from families to share with you in this book. Parents contributed everything from comfort food favorites to traditional dishes that have been passed down in the family. Many have personal anecdotes about the history and significance of the recipes. There is even an in-depth description of how to prepare a traditional Indian curry from scratch.
We also recruited teachers to collect 124 recipes directly from Q300 students. Kids were asked to choose a favorite dish, then recollect the ingredient lists and describe in their own words how to make their dishes. The key being "in their own words." We scanned and put their recipe forms right in the book. The kids' recipes are touching, hilarious, and sometimes feasible. It makes for great reading!
Questions? Contact fundraising@q300pta.org