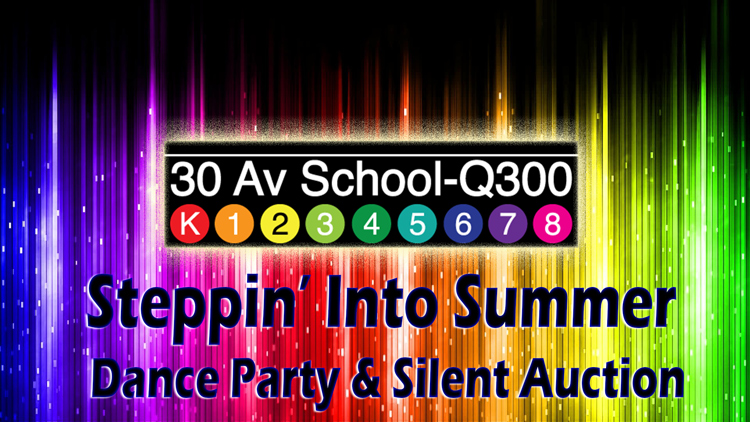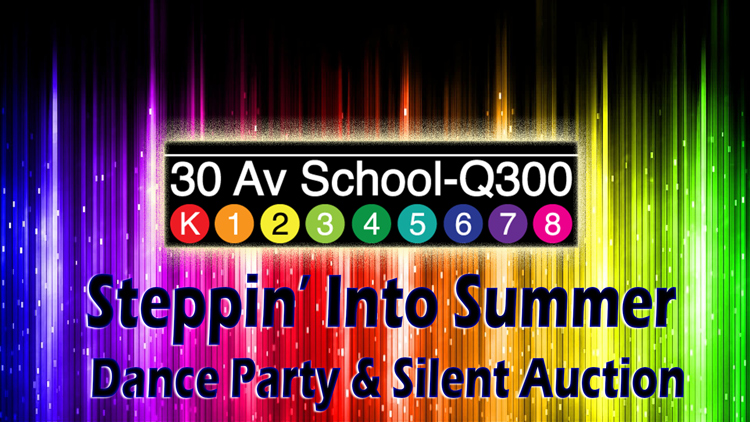 Celebrate Q300 with Parents, Students and Teachers!
DJ! DANCING! FOOD & DRINK! SILENT AUCTION! RAFFLES!
The Event
The Q300 PTA cordially invites you and your family to join us on May 7th for the "Stepping Into Summer Dance Party and Silent Auction" at The Chian Federation in Astoria. Dance the afternoon away as our DJ spins family friendly tunes! An array of delicious food will be served so leave Sunday dinner to us! We will also be hosting a silent auction featuring tons of exciting prizes and raffling off fabulous gifts! All proceeds will go toward providing continuous PTA-funded enrichment programs for our beloved students.
Date / Time
Sunday, May 7th from 3:00pm – 6:00pm
Location
Chian Federation Catering Hall
44-01 Broadway Astoria, NY 11103
Get Your Tickets
The venue might reach capacity so tickets are limited quantity.
Online tickets are no longer available. Please purchase them at our Party!
To purchase at the event:
Tickets on the day of the event will be $30 for adults. $18 for kids.
The Auction
Just some of the incredible auction items already on deck for this year's event: (2) Grandstand tickets for the Thanksgiving Day Parade, (2) Grandstand tickets to the New York City Marathon Finish Line, Tour of the American Museum of Natural history, Tiffany's Ornament and necklace, Physique Swimming Classes, 60 Minute Caregiver Relaxation Session, and Bilingual Sprouts Semester Classes… and more to come!

Auction items last year were amazing!
How do we always get such great items to auction? FROM YOU!
We are now seeking donated items and YOU can help put us over the top…
If you are a local business owner or if you work for a business that might be interested in making a tax deductible donation that will help our students…
DONATE AUCTION ITEMS like restaurant gift cards, summer camps, kids activities, tickets to the theater or sporting events, weekend getaways, hotel stays are wonderful. More personal items are great too! Over the last two years, we have had Q300 parents donate full 4-course meals, stays in their vacation homes, custom songs and music lessons, BBQ catering, walking tours of Chinatown, art gallery tours, and even homemade limoncello! Some have put together raffle baskets of sports items, spa items, and even baskets of cheer! Just use this online form to make the arrangements. Please be as detailed as possible and include all items restrictions, expiration dates etc. Please complete your donation entries by Monday, April 10.
BECOME AN EVENT SPONSOR by placing an ad in the Auction Journal showcasing your business to over 350 families who love to support local businesses plus many more who will visit the auction website. The Journal is passed out at the auction and lists all the auction items. It also celebrates the school, its teachers, and acknowledges our supporters. Of course we do lots of acknowledgements. For more information and reserve an ad see the journal ad form. Or you can simply celebrate Q300 with a contribution via the form. The deadline for reserving journal ads is Friday, April 7.
Resources for parents who want to help
Letter for editing and sending to business owner friends: Word version, PDF version
Journal ad reservation form
Email journal@q300pta.org with questions.
The 2017 PTA Auction Committee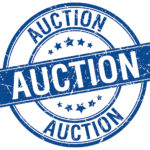 Co-Chairs: Maria Hantzopoulos & Ellie Rabinovich
Members: Adele Brice, Ingrid Bromberg-Kennedy, Melissa Cruz, Jenn Eliasi, Kevin Gallagher, Joanna Holzman, Blain Kennedy, Randi Marshall, Gina Reis, Sue Sekar, Andrea Tappert, and Hong van Tieu
If you are interested in volunteering for the Auction Committee or have questions about the upcoming festivities please email us at: auction@q300pta.org
---
*Q300 Parent-Teacher Association, Inc. (EIN: 47-2258209) is a 501(c)3 non-profit organization. Your charitable contribution is tax-deductible to the extent allowed by law.