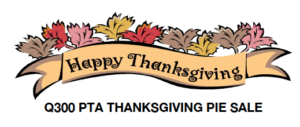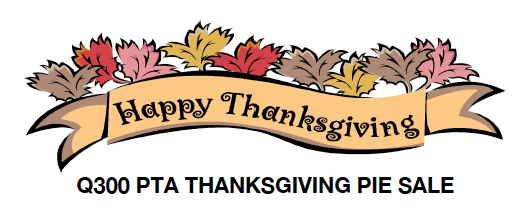 PIE SALES HAVE ENDED
Once again, the Q300 PTA is excited to partner with La Guli Pastry Shop of Astoria to provide delicious pies for our Thanksgiving feasts and to help raise funds for school programs.
All pies are 8 inches and cost $15 each or $15.75 for online orders (transaction fee added) Same price as last year!
Order online here with a credit card or use this paper form and return to school with a check – attention PTA Pie Sale. You will receive one of these paper forms in your communications folders soon.
If you want to order more than one, or more than one type of pie, click "Continue Shopping" to go back and order the second pie. If you are requesting delivery, please click "Continue Shopping" and add the $5.50 delivery fee.
Someone from the Pies team will be in touch.  If we cannot accommodate your request for home delivery, your delivery fee will be refunded and you will have the option to cancel your order.