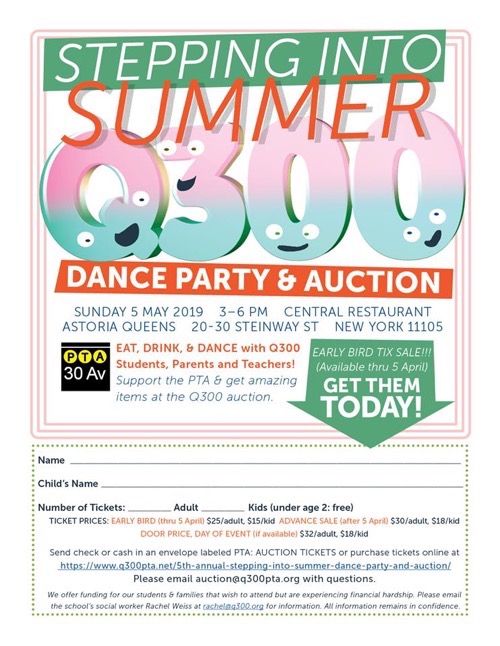 The 5th Annual Q300 PTA Stepping Into Summer Dance Party & Silent Auction
Date: Sunday May 5th, 2019
Time: 3:00pm-6:00pm
Place: Central in Astoria (20-30 Steinway St, Astoria NY 11105)
Tickets: Early bird (through April 5): $25/adult, $15/kid / Advance sale (after April 5): $30/adult, $18/kid / Door price (if available): $32/adult, $20/kid. Buy tickets online here
DJ, DANCING, FOOD & DRINK! / SILENT AUCTION!
RAFFLES! / ONLINE AUCTION!
The venue might reach capacity so tickets are limited quantity!
We had some fantastic auction items last year and we already have some great prizes on deck (see below). How do we always get such great items to auction? FROM YOU!
We still need your help to get more auction items and journal ads. We are seeking donated items and YOU can help put us over the top.
If you are a local business owner or if you work for a business that might be interested in making a tax deductible donation that will help our students OR if you can ask your favorite local business to donate…
DONATE AUCTION ITEMS like restaurant gift cards, summer camps, kids' activities, tickets to the theater or sporting events, weekend getaways and hotel stays.  More personal items are great too. Use this online auction prize donation form to make the arrangements. Please be as detailed as possible and include all items restrictions, expiration dates, etc.
BECOME AN EVENT SPONSOR by placing an ad in the Auction Journal showcasing your business to over 350 families who love to support local businesses, plus many more who will visit the auction website. The Stepping Into Summer Auction Journal (PDF), which lists auction items, is distributed at the event. It also celebrates the school, its staff, and acknowledges our supporters.  The ad order form is at the bottom of this solicitation letter (Doc) or email (Doc).
GIVE A SHOUT OUT in the Auction Journal. Have a graduating 8th grader?  Want to thank your teacher as a class gift from all the parents?  Want to congratulate your child or someone else in our community? Show some appreciation – give a Shout Out! Shout Outs will be published in the Stepping Into Summer Auction Journal which will be given to everyone in attendance and available electronically to the whole community. Each Shout Out is just $10, and limited to 140 characters. Purchase them on the Journal Shout Out order form. The cost is tax-deductible.* Shout out in the Auction Journal has been closed.
Email auction@q300pta.org or journal@q300pta.org with questions..
Just some of the incredible auction items already on deck for this year's event:
Teacher experiences and prizes (AVAILABLE BY RAFFLE AT EVENT): ToniAnne's Summer Fun Basket; Ali's Stem Prize; Anna Hauser's Dave and Buster Gift Card; Breakfast and a Board Game with Christine; Principal for a Day with Bill; Board Game Lunch with Edwin; Lunch and Board Games with James, Jean, Laura, and Anna; Shadow the Parent Coordinator with Jenny; Pizza and Cupcake Delight with Stephanie and Kasia; Art Basket from Sonita and Anna; Lunch with the Assistant Principals with Sonita and Anna; An Original Work of Art by Maria; Pizza Party with with Cristina; Travel Fun Backpack from Rachel; Arts&Crafts Basket from Jaimie; Arts and Crafts Lesson from Jaimie; Ice Cream with Kiera
Silent Auction Prizes (AVAILABLE BY AUCTION AT EVENT): Children's Museum of the Arts passes; Bareburger Gift Card; Sanger Hall Gift Card; Parent Experience: Homecooked Greek meal; Parent Experience: Homecooked Lebanese meal; Forest Hills Stadium Concert Tickets; Bethany Beach Vacation Home Stay; Parent Experience: Family Photo Session; Recycled Material Totes; Parent Experience: Signature Cocktail Creation; Mets Tickets; Pip's Island Tickets; The Cliffs Rock Climbing Passes; Butcher Bar Gift Card; Family Portrait; Private Yoga Session; Jewelery made by a parent; Candle Gift Basket made by a parent; Ample Hills Gift Card and Cookbook; Broadway Bound Kids Summer Camp; Tada! Theater Tickets; Series of Unfortunate Events Books; Kate Spade Purse; Little Soap Shop Gift Basket; Parent Experience: NYC Chinatown Walking Tour; Queens Botanical Garden Gift Basket; Book Culture Gift Certificate; Asiam Thai Gift Certificate; Yankees Tickets
Other Raffle Prizes (AVAILABLE AT PARTY): Oriental Trading Gift Certificate; Sushi Time Gift Certificate; Bareburger Gift Card; Good Games Gift Card; Scientific American Subscription; Party Place Gift Certificate; Astoria Bookshop set of books; Astoria Bookshop Gift Certificate; Petals and Roots Gift Certificate
Class Baskets (AVAILABLE BY AUCTION AT EVENT): Kindergarten Arts & Crafts; 1st Grade Legos; 2nd Grade Cooking and Food; 4th Grade Family Game Night; 5th Grade Camping; 7th Grade Harry Potter; 8th Grade Books
Purchase tickets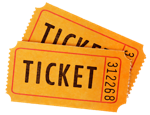 – Purchase Tickets HERE  Pre-Sale Closed
---
[Update on Wednesday, May 1, 2019]
The Stepping Into Summer Auction Journal 2019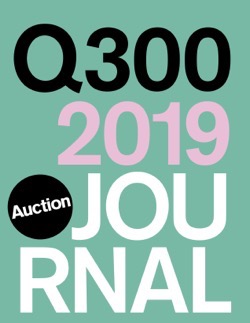 The Stepping Into Summer Auction Journal 2019 has been published. The Auction Journal, which will be distributed at the event, lists auction items, celebrates the school, and acknowledges supporters in our local community.
---
[Update on Sunday, May 5, 2019]
The Stepping Into Summer Auction: Online Auction Link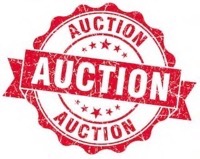 The link to online auction is live now! Click on https://charityauction.bid/Q300Summer2019