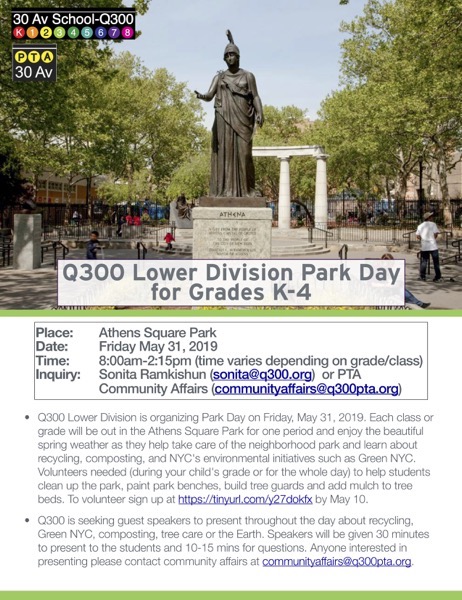 Date: Friday, May 31, 2019
Time: 8:00am-2:15pm (time varies depending on grade/class)
Place: Athens Square Park
Description: Q300 Lower Division is organizing Park Day on Friday, May 31, 2019. Each class or grade will be out in the Athens Square Park for one period and enjoy the beautiful spring weather as they help take care of the neighborhood park and learn about recycling, composting, and NYC's environmental initiatives such as Green NYC. Volunteers needed (during your child's grade or for the whole day) to help students clean up the park, paint park benches, build tree guards and add mulch to tree beds. To volunteer sign up at https://tinyurl.com/y27dokfx by Friday, May 10, 2019. Also, Q300 is seeking guest speakers to present throughout the day about recycling, Green NYC, composting, tree care or the Earth. Speakers will be given 30 minutes to present to the students and 10-15 mins for questions. Anyone interested in presenting please contact community affairs at communityaffairsq300pta.org.