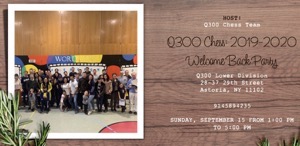 The Q300 Chess Team is hosting a Q300 Chess Team Welcome Back Party! This is a great opportunity to meet with the Q300 chess team and find out everything you ever wanted to know, including how to join. All new families and the entire Q300 community + their families are more than welcome to come.
Date: Sunday, September 15, 2019
Time: 1:00pm-5:00pm
Place: Q300 Lower Division (PS17) Lunch room & Gym
RSVP Link: http://evite.me/xfMjbFSseb
Note: RSVP will help a lot with planning. But if you find yourself available at the last minute, please feel free to join anyway.
Questions: Q300ChessTeam@gmail.com
About the event: This is a valuable team building opportunity – we (the Chess Team) really don't get together all that often, outside of tournaments. This will allow us to put some names to faces, hang out, and chart the path forward. For new kids/parents, it will give them a chance to get all their questions answered, and bond with the group in an informal setting. We will have numerous chess activities for the kids – a puzzle solving contest, games vs. one another, a "blitz challenge" vs. coaches, and more. We will also present our vision for the year 2019-20 and beyond, including team training sessions, and the unveiling of the brand-new "online learning" NYChessKids portal – something Saudin and team have been working very hard on.