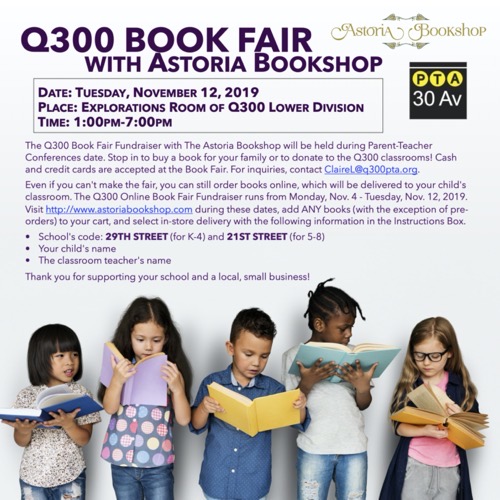 The Q300 Book Fair Fundraiser with The Astoria Bookshop will be held both online and in person.
Stop in to the Explorations Room on Tuesday, November 12th to buy a book for your family or to donate a book to the Q300 classrooms! Cash and credit cards will be accepted at the Book Fair. The online book fair will be held from November 4th – November 12th at https://astoriabookshop.com. Use the codes below to order. These orders will be delivered to your child's classroom in order to qualify as part of the fundraiser.
School's code: 29TH STREET (for K-4) and 21ST STREET (for 5-8)
Your child's name
Your child's classroom teacher's name
Please note that families will have an opportunity to buy books for their kids as well as an opportunity to purchase books to donate to the teachers to help expand the classroom libraries. Here is a compiled list of teacher/staff wishlists (download ) and all time favorite books of teachers and staff in the Q300 Lower Division.