This year we will be hosting our Talent Show Remotely. All students, K – 8, are welcome and encouraged to join in as performers and spectators. The Virtual Talent Show will be held the afternoon of Friday, June 19th. Details on how to view will be shared with our community​.
Please read the information below carefully if you are interested in participating in the Q300 2020 Talent Show.
Possible Talents​: ​Play a musical instrument, perform a dance, sing a song, create a poem, tell jokes OR do something else of your choice!
Date: Friday, June 19, 2020
Time: Anytime after 3pm
Place: Flipgrid (Upload no later than June 17th at 3pm)
URL: flipgrid.com/q300talentshow (log in with your q300.org e-mail)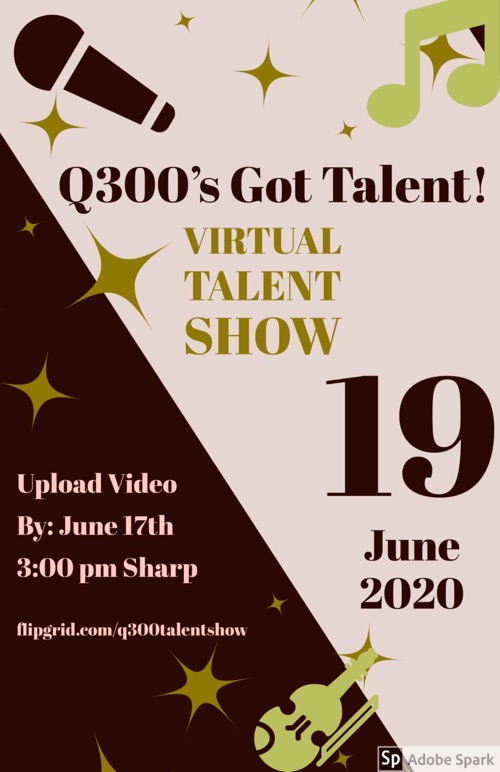 Guidelines and Expectations for Performances:
The length of the act​should not exceed 2 minutes 30 seconds.
All performances must follow school-appropriate language, dress code,and music choice.
All lyrics must be appropriate for all school-aged children: Kindergarten through 8th grade
Instructions:
Visit​flipgrid.com/q300talentshow​to access the Q300 talent show grid.
Log in with your student Q300 email.
When you arrive, ​choose a topic at the top of the site. *Upper division (microphone icon) *Lower division (smiley face emoji)
Once you are on the correct topic, click the ​green​ plus sign icon to begin recording or uploading a video.
Once you are finished recording, review your video and fill out the information (display name, description…). ​This will be your last chance to review your video before submitting.​ Click next when your video is finalized.
You will receive a confirmation on your screen that says "congrats", that means your video has uploaded and you are all set!