Registration for this event has been closed.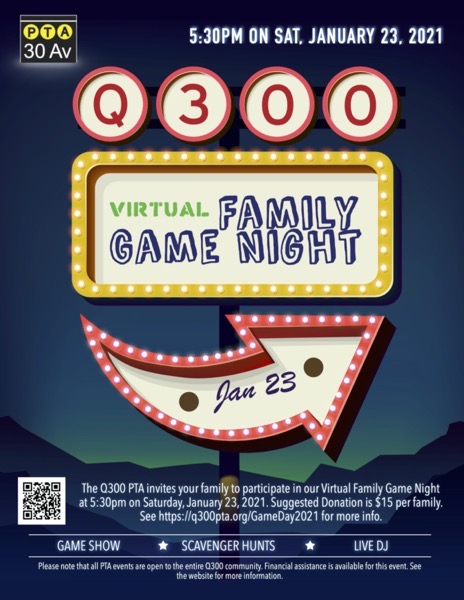 The Q300 PTA invites your family to participate in our Virtual Family Game Night. Get the whole gang together for an evening of fun and family-friendly competition with interactive game show-style challenges, scavenger hunts, charades, trivia, and more, hosted by a live DJ. The best part is you get to enjoy it all from the comfort of your own home.
Date: Saturday, January 23rd, 2020
Time: 5:30pm – 7:00pm
Platform: ZOOM
Suggested Donation: $15 per family
To reserve your family's spot please purchase your tickets via the PayPal link on the Q300 PTA website: http://q300pta.org/GameDay2021 Please note there is a small PayPal transaction fee of $0.67 in addition to the registration fee.
Proceeds from this event will help benefit the PTA's efforts to continue to provide enrichment programs to all Q300 students.
Please note that all PTA events are open to the entire Q300 community. Admission fees are simply a suggested donation to cover the costs associated with the event. If you would like to participate in this event but are unable to contribute, please reach out to Rachel Weiss rachel

q300.org (Lower Division) or Christine Katartzis christine

q300.org (Upper Division) for a link to join. All requests are kept confidential.