The Q300 PTA invites your family to join a virtual Arts & Crafts session to celebrate Lunar New Year this Saturday, February 27th, 2021 from 5:30pm – 6:30pm. Ox printables will be sent via the Google Group, as well as by the Class Parents. Hope you'll join in on the fun!
Date: Saturday, February 27, 2021
Time: 5:30pm-6:30pm
Place: Zoom (Zoom information was sent through the class parents. Contact membershipq300pta.org if you haven't received one).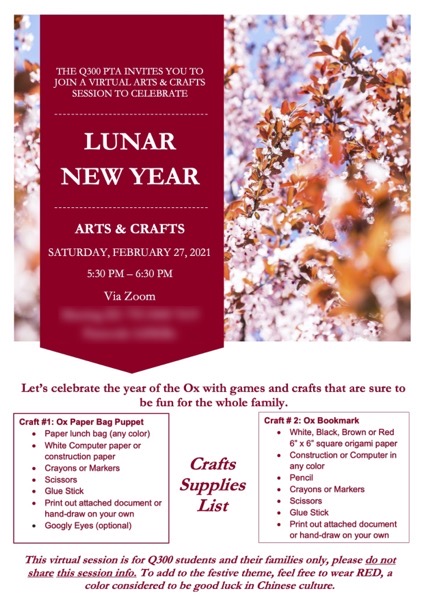 Crafts Supplies List
Craft #1 : Ox Paper Bag Puppet [Template 1 | Template 2]

Paper lunch bag (any color)
White Computer paper or construction paper
Crayons or Markers
Scissors
Glue Stick
Print out attached document or hand-draw on your own
Googly Eyes (optional)

Craft# 2: Ox Bookmark [Template]

White, Black, Brown or Red 6″x6″ square origami paper
Construction or Computer in any color
Pencil
Crayons or Markers
Scissors
Glue Stick
Print out attached document or hand-draw on your own