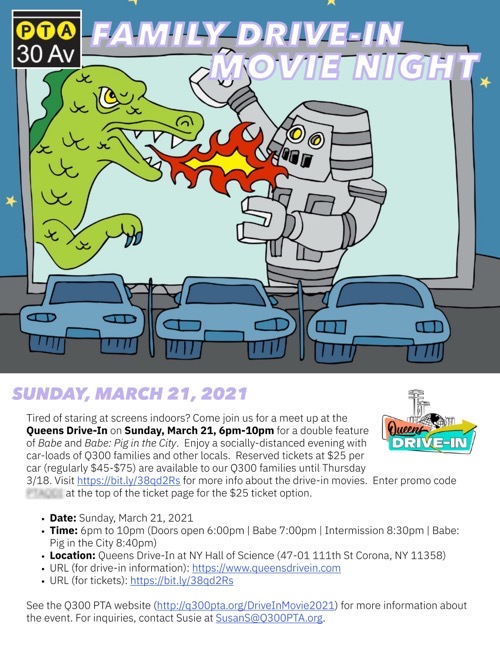 Tired of staring at screens indoors? Come join the PTA at the Queens Drive-In on Sunday, March 21, 6pm-10pm for a double feature of Babe and Babe: Pig in the City. Enjoy a socially-distanced evening with car-loads of Q300 families and other locals. Reserved tickets at $25 per car (regularly $45-$75) are available to our Q300 families until Thursday 3/18.
Visit https://bit.ly/38qd2Rs for more info. Enter promo code [see the flyer] at the top of the ticket page for the $25 ticket option.


Date: Sunday, March 21, 2021
Time: 6pm to 10pm

(Doors open 6:00pm | Babe 7:00pm | Intermission 8:30pm | Babe: Pig in the City 8:40pm)


Location: Queens Drive-In at NY Hall of Science (47-01 111th St Corona, NY 11358)
URL (for drive-in information): https://www.queensdrivein.com
URL (for tickets): https://bit.ly/38qd2Rs
Details: DETAILS: Drive-in movie night, right in our borough's backyard, Sunday Mar 21 at sundown. We will gather at the NYSci parking lot to enjoy a socially-distanced screening [from a vehicle only] at a community price of $25 (regularly $45-$75). Showing back to back screenings of Babe + Babe: Pig in the City. Use Promo Code [see the flyer] at Checkout. Limited reserved tickets available until March 18 only!
A few additional notes about this event:
The Drive-in's health and safety policy states audience may not leave the car except for bathroom or concessions.
There are a couple of artisanal snack stands, but you may pack meal for kid(s). Lines may be long.
Alcohol not permitted.
Families can communicate on WhatsApp during the experience – join fellow attendees at [Check your e-mail for the link]. If you have questions about joining the group chat, email Communications@Q300PTA.org.
The entrance for Queens Drive-In is ONLY at 111th St. X 49th Ave. at The NY Hall of Science, Corona NY. Note GPS navigation (Google Maps, etc) may direct cars in from other ways, but for safety we are told there will be only one way to enter event. Allow plenty of time!
For general inquiries about the event, contact parent volunteer Susie Stewart at SusanS@Q300PTA.org.
If you would like to participate in this event but obtaining ticket will be a hardship, please reach out to counselors Rachel Weiss rachel@q300.org (Lower Division) or Christine Katartzis christine@q300.org (Upper Division) for hardship assistance. All requests are kept confidential.