The Q300 PTA will hold our annual back-to-school meetup on Sunday, September 12, 2021, from 12-3pm in Rainey Park. All Q300 families (old and new), teachers, and staff are invited to join for this fun event!
Date: Sunday, September 12, 2021
Time: 12:00pm-3:00pm
Place: Rainey Park (Vernon Blvd, Astoria, NY 11106)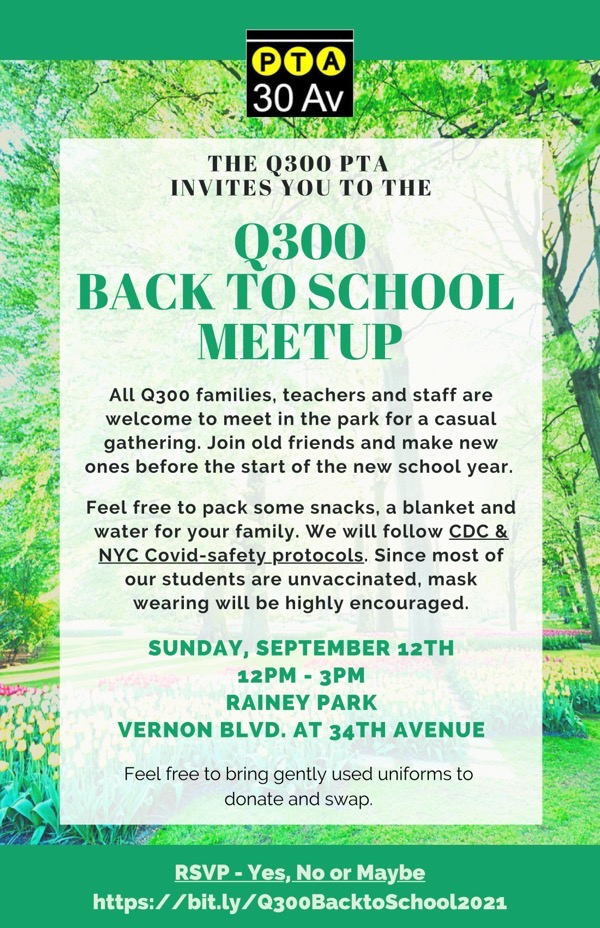 Although we will not be bringing food to share this year, you are welcome to bring your own snacks/drinks and blanket to sit on. We will follow CDC & NYC Covid-safety protocols. Since most of our students are unvaccinated, mask-wearing will be highly encouraged. (https://www1.nyc.gov/site/doh/covid/covid-19-prevention-and-care.page)
Please RSVP (yes, no, or maybe at https://bit.ly/Q300BacktoSchool2021). We look forward to seeing familiar faces and meeting new members of the Q300 community!
Also, our Uniform Swap is back! – you can bring clean and gently used uniforms to donate, and pick up some new-to-you uniforms that you can use this year (See this announcement about the uniform swap for the uniform swap guidelines: http://q300pta.org/2019/06/07/q300-uniform-swap-2019-june-20-aug-25-2019/)
For questions, contact the VP for Membership at membership@q300pta.org.