Q300 has once again partnered with Tea Collection (https://www.teacollection.com)! Between Monday, October 4, 2021 and Tuesday, October 12, 2021, and you will receive 20% off teacollection.com orders and another 15% of those orders' will be donated back to Q300. To receive your personal discount and the donation to the PTA, use code SDF21Q300PTA. The promotion starts on Monday, Oct 4th, 2021 and ONLY runs through Tuesday, Oct 12th, 2021.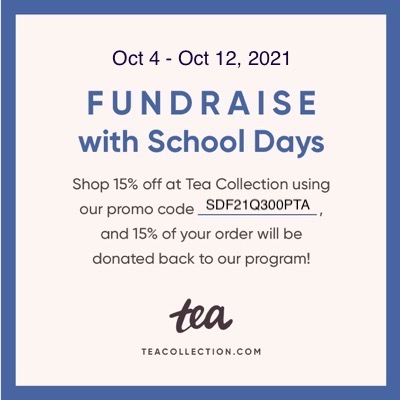 About Tea (from https://www.teacollection.com/about/the-tea-story)
Tea began with the dream to inspire global connection and curiosity for little citizens of the world. We believe that no matter where we live or what language we speak, there is so much we all have in common. We travel the world bringing the beauty of different cultures and modern design to children's clothing.
If you have any questions, please contact the co-VP of Fundraising at fundraising@q300pta.org.