The deadline for the book swap collection is now on Friday, June 24, 2022. The book swap is going to take on Monday, June 27, 2022.
Students are encouraged to bring in a gently used book to donate to the lower division book swap. Books can be brought in any day from now until Monday, June 27, 2022 (Friday, June 24, 2022) and given to the classroom teachers. The swap will take place during school hours on Monday, June 27th. On that day all students will have the opportunity to choose ONE book to keep.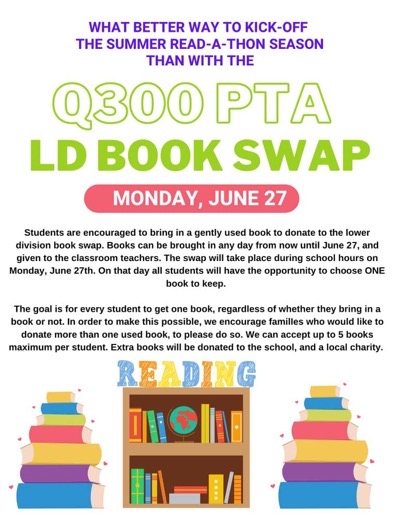 The goal is for every student to get one book, regardless of whether they bring in a book or not. In order to make this possible, we encourage familles who would like to donate more than one used book, to please do so. We can accept up to 5 books maximum per student. Extra books will be donated to the school, and a local charity.