The 9th Annual Back to School Q300 Meetup will take place on Sunday, September 18, 2022 from 12-3 pm at Rainey Park (Vernon Blvd at 34th Ave.).
The 0300 PTA welcomes all Q300 families, teachers and staff to meet in the park for a casual gathering. Join old friends, and make new ones at the start of the new school year.
Pack a blanket, reusable water bottles, and some snacks for your family, and enjoy an afternoon catching up with members of the Q300 community.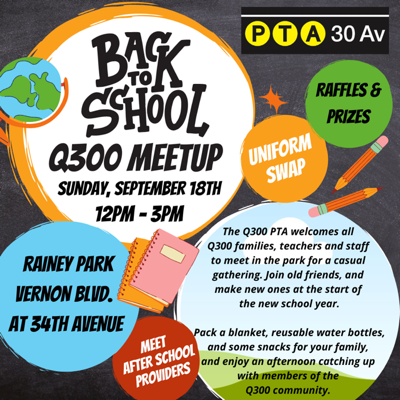 Date: Sunday, September 18, 2022
Time: 12:00pm-3:00pm
Place: Rainey Park (Vernon Blvd, Astoria, NY 11106)
Want to help out at the event? Click here for the volunteer signup: https://docs.google.com/forms/d/1TotoSSw5-_kR5EoU9fIWZYHaqXxCFLyefPbCecfG6vQ/edit?usp=drivesdk.
For questions, contact the VP for Membership at membership@q300pta.org.