The fourth grade will be hosting a bake sale on Friday, December 9, 2022 at the Lower Division campus. The bake sale is taking place on the same day as Q300's Arts Connection Showcase. All proceedings will be used to support the end of the lower division celebrations for the 4th graders.
Date: Friday, December 9, 2022
Time: 8:00am-2:00pm
Place: Q300 Lower Division Gym (28-37 29th St, Long Island City, NY 11102)
Parents and children can buy home-made or store-bought cookies, brownies, cupcakes, flans, rice krispy, pastries, and coffee/tea during the day. Each item will be priced between $1 and $2. All items are nut-free. Each item will be individually wrapped with a label with information about all ingredients used.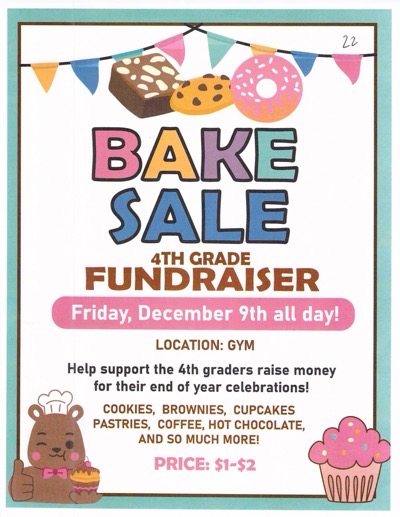 Update on Wednesday, December 7, 2022
The Bake Sale will take place on Friday, December 9, 2022 during the Art Showcase. Families can make purchases during this time. Children can make purchases during the lunch recess. Please be sure that you and/or your child(ren) bring cash for purchases. Items cost $1 to $2.
Families are allowed to make purchases of snacks to be ziplocked and delivered to your child in their classrooms for a sweet surprise!
FYI, all items will be individually wrapped with ingredient labels. The Bake Sale is nut-free.
No candy is allowed at school and will not be sold at the bake sale.