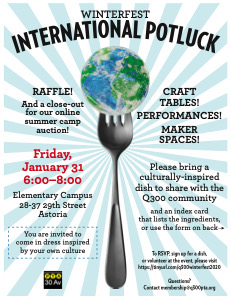 Date: Friday, January 31, 2020
Time: 6:00pm-8:00pm
Place: Q300 Lower Division campus (28-37 29th St, Astoria, NY 11102)
Our 6th annual Winter International Potluck and Festival will be on Friday, January 31st at the Elementary School Campus from 6:00pm-8:00pm. This is a school wide event! K-8 extravaganza!  This is a lovely community event where every brings dishes from all over the world!
Food, Attendance, and Volunteer. To RSVP, let us know the type of dish you will be bringing, or sign up to help with the event (craft table, Costco run, etc…), please click the following link: https://www.signupgenius.com/go/10c0b4aa9ac22a6f94-q3005
Prizes for Auction. We will also be raffling and silent auctioning a few prizes. We are looking in particular for camp prizes though welcome others. If you can donate or can solicit a donation, please fill out the Winter Festival Auction Donation Form at https://docs.google.com/forms/d/e/1FAIpQLSe-Zt8e8MXPaBFcOU25tmZb6pcb0vS8bZDP_SYJTtvqUJAvbw/viewform. See below for more information about the auction prizes.
Grade Tables. We're asking that each class (up to 2 per grade) plan an appropriate activity that can be set up and run at a table during the event. You can put together anything—a craft, a coloring activity, origami. Last year we even had a parent set up a chopsticks station where children were able to experiment with picking up different items, like legos and marbles! If you are interested and helping to organize this for your child's grade, please reach out to your class parent or the LD (Barbara Monroe or Christina Lee) and UD (Sae Makino-Siller and Milena Ivanova) representatives!
Continue Reading
International Potluck and Festival 2020 & Donations for Winter Auction 2020