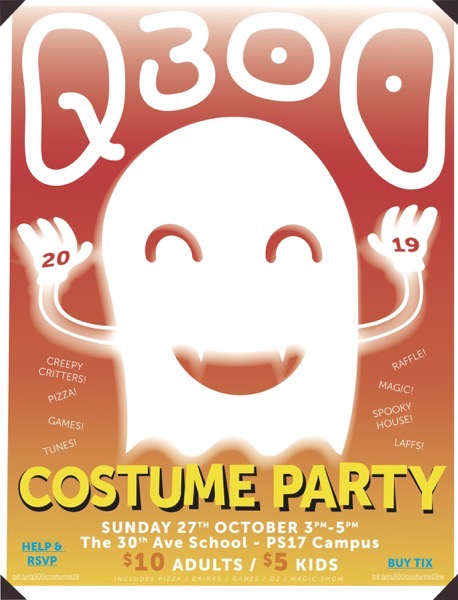 Q300PTA is hosting our 5th Annual Q300 Costume Party on Sunday, October 27, 2019 at the Lower Division campus (P.S.17). $10.25 Adults and $5.25 Children. Each ticket includes pizza, drink, music, magic show, fun activities and a haunted stage! The link to ticket purchase is available below (via PayPal).
Date: Sunday, October 27, 2019
Time: 3:00pm-5:00pm
Place: Q300 Lower Division (PS17 / 28-37 29th St, Astoria, NY 11102)
Tickets: $10 per adult and $5 per kid
In this year's costume party, there will be:
Pizza and beverage
Interactive magic show and dance party in the gym
Spooky stories and creepy space in the auditorium
Games and activity stations for all ages in the cafeteria: Bean bag toss, ring toss, crafts, can knock downs, and much more
Raffle (not included with ticket price)
Photo booth ($1.00 donation)
For questions, please contact the membership committee at Membership[at]q300pta.org.
Seeking Volunteers!
There will be lots of fun to be had at the second annual event. To help make it an event to remember, we're looking for some helping hands. Are you a whiz at planning? Would you be able to help during the event passing out pizza or drinks? Would you be able to take a shift at a craft table? It takes a lot to have a fun and safe event, so please consider volunteering to help make this event a success.
Please sign up through this link (http://bit.ly/q300costume19) if you're able to offer a helping hand!
Financial Assistance for Families
In the spirit of our core value of inclusion, we offer funding for our students and families that wish to attend but are experiencing financial hardship and cannot pay the entrance. Please email Rachel Weiss at rachel[at]q300.org if you have any questions about this. All information remains confidential.
Teal Pumpkin Project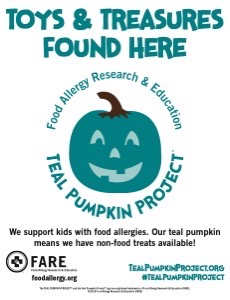 The Costume Party Planning Committee have decided to incorporate more awareness on food allergies during this year's Costume Party. Many of our children have food allergies, some of which are life threatening, and more awareness around these issues can only serve to make our community an inclusive space. This year's costume party will adopt some aspects of the Teal Pumpkin Project (http://tealpumpkinproject.org/), whose goal is to "[raise] awareness of food allergies through the addition of non-food trinkets and toys to your treats, making Halloween safer and more inclusive for all trick or treaters." Though we have never given food treats as game awards in the Costume Party, this year we will actively provide our children with information why we give non-food trinkets and toys in place of food treats.
Purchase tickets online (via PayPal)
You can purchase tickets online via PayPal here. The price for the ticket will be $10.25 (adult) and $5.25 (child) as it will include a $0.25 processing fee. If you have purchased tickets online, your name(s) will appear on the guest list on the day of the event. Please keep the receipt from PayPal just in case.
Online ticket sales
Online ticket sales were closed on Friday, October 25, 2019. Tickets will be available at the door, but we may not have enough pizza for guests without advance tickets. Note that those who have purchased advance tickets (either via online or check) will not receive physical tickets. Your names will appear on our guest list at the event check-in. Please keep the receipt from PayPal just in case.