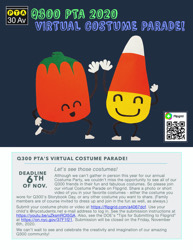 Q300 PTA 2020 VIRTUAL COSTUME PARADE!
Let's see those costumes!
Although we can't gather in person this year for our annual Costume Party, we couldn't miss the opportunity to see all of our Q300 friends in their fun and fabulous costumes. So please join our virtual Costume Parade on Flipgrid. Share a photo or short video of you in your favorite costumes – either the costume you wore for Q300's Storybook Day, or any other costume you want to share. (Family members are of course invited to dress up and join in the fun as well, as always.)
Submit your costume photo or video at https://flipgrid.com/a4067dcf. Use your child's @nycstudents.net e-mail address to log in. See the submission instructions at https://youtu.be/uZksmROl5GA. Also, see the DOE's "Tips for Submitting to Flipgrid" at https://on.nyc.gov/37F1f21. Submission will be closed on the Friday, November 6th, 2020.
We can't wait to see and celebrate the creativity and imagination of our amazing Q300 community!