Ticket sales are now closed (2022/10/15). No ticket will be sold at the door this year.
The Q300 PTA invites you to the Fall Costume Party on Sunday, October 23rd, 2022 from 2:00pm – 4:00pm at the Lower Division building. All Q300 families are invited to attend. Admission is $5 per person (age 5 and up), and includes access to our live DJ dance party, games and activities.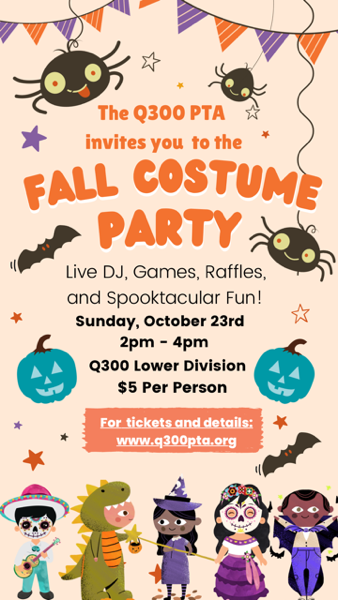 Food Allergy Awareness:
We will be participating in The Teal Pumpkin Project, an initiative of Food Allergy Research and Education (FARE). The Teal Project promotes safety, inclusion and respect of individuals managing food allergies. This worldwide movement offers an alternative for kids with food allergies, as well as other children for whom candy is not an option. It keeps trick or treating a fun, positive experience for all!
To ensure that this event is safe and inclusive for all to attend, regardless of food allergies and aversions, there will not be food or candy at the event. Please plan accordingly. We ask that families refrain from bringing food items into the event. All treats and prizes at the event will be non-food trinkets and treats.
Beverages:
An assortment of potions and concoctions (non-alcoholic beverages) will be available for purchase from our wizards, warlocks and witches if you dare…
COVID Safety Protocol:
Please note that DOE requires that all adults entering DOE building show proof of full vaccination. Masks covering nose and mouth are strongly encouraged. DOE COVID-19 Safety Guidelines: https://www.schools.nyc.gov/school-life/health-and-wellness/covid-information/health-and-safety-in-our-schools
Volunteer Sign Up:
Volunteer to make this event Amazing!!! Want to dress up like a mad scientist, and set up an eerie experiment for the kids at the event? Want to put your bartending or barista skills to work and mix up some spooky drinks at the event? Want to spearhead a themed table, game, craft or activity? As with any PTA function, we will be relying heavily on the enthusiasm and participation of parents like you. If you are able to spare an hour before, during, or after the party to help make this event memorable, please sign up at https://www.signupgenius.com/go/10c0b4aa9ac22a6f94-q3007
Meet Fuzzy (Toy recycling program):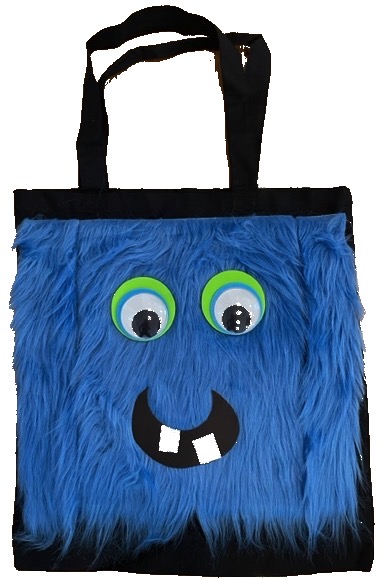 Hi Everyone! Meet Fuzzy! Fuzzy is going to help us collect new or "like-new" toys and trinkets to be used as prizes for the game stations at the Costume Party on Sunday, October 23, 2022.
In our quest to help reduce the number of plastics that end up in landfills, the PTA would like to call on all families to take a look around your home and see if there are any small items that can be used as prizes for the game stations at the Costume Party. These could be any new, or "like-new" party favors, fast food meal toys, stickers, fidgets, craft items, and other small items as such. All items will be given disinfecting wipe-down to eliminate any possible traces of allergens.
Fuzzy will be keeping our wonderful Parent Coordinator, Jenny Lando company from now until the Costume Party. They will be at the Lower Division gate at drop-off and pick-up times. Feel free to send in donation items with your kids to "feed" to Fuzzy during those times. Fuzzy will spend their day in Ms. Jenny's office, so if your child takes the bus, Ms. Jenny will also make occasional classroom visits with Fuzzy, so students can drop their items off then.
Raffle Fundraiser:
There will also be a raffle fundraiser at the event! You can purchase tickets (cash only) at the event. See tentative list of prizes below.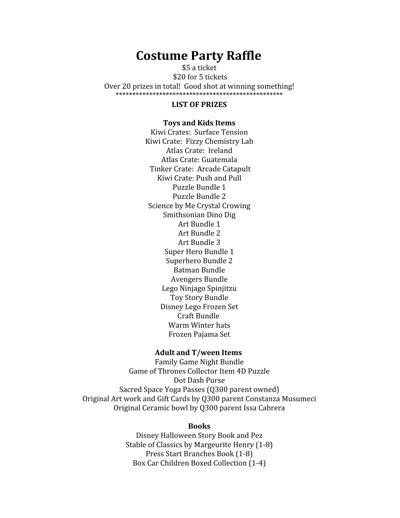 Inquiries
For questions, contact costumeparty@q300pta.org.
Registration
Update on Saturday, October 15, 2022
We've just been informed that we are at venue capacity! Ticket sales are now closed for the Fall Costume Party. If you have purchased your tickets online, and received a confirmation from PayPal, or sent your payment in with your child before Friday, October 14, 2022, you are all set. We look forward to seeing you!
For anyone who has not purchased tickets and is interested in attending, we will keep a waitlist, please email membership@q300pta.org and specify how many tickets you are interested in purchasing. We will notify you if any cancellations come in, and space becomes available.
If you did purchase tickets, and are no longer able to attend, please let us know ASAP at costumeparty@q300pta.org.