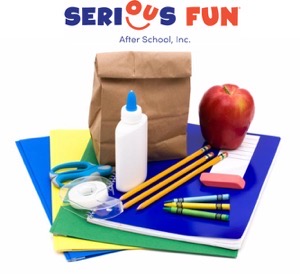 SeriousFun is tentatively planning to offer two options in Fall 2020:
one completely virtual program available to all families, and
one in person program for students who are doing 100% remote learning.
Enrollment/Applications will be available September 1, 2020. Families with credits on account can use their credits towards the cost for either program.
Virtual Arts Enrichment

Our Virtual Arts Enrichment Program offers 60-min classes with some familiar Premium Partners such as Launch Math + Science, as well as some new friends The Connected Chef, and WonderSpark Puppets!
Join us Online starting: Mon., Sept. 21 / Monday – Friday for a 60-min class!
Cost: $150/week* *tuition billed monthly
Registration Begins September 1st!

In-Person Enrichment with The Connected Chef

Serious Fun has partnered with The Connected Chef to offer three 12-week sessions – Fall, Winter, Spring – to a maximum of 30 students enrolled in remote learning only. Students will learn about healthy eating, nature, and community through STEAM activities including hands on experience in planning and planting a garden, cooking meals and snacks and related science and art activities that encourage critical thinking and creativity! As enrollment is limited to 30, enrollment is not guaranteed, and an application will be required.
FALL SESSION: September 28 – December 18 / Monday – Thursday / 3pm – 6pm
Steinway Reformed Church (41-01 Ditmars Boulevard Astoria, NY)
Cost: $2400/session* *tuition billed monthly in 3 installments of $800
Limited Scholarships are available.
Online Applications will be accepted beginning September 1.
See more information at http://seriousfunnyc.org