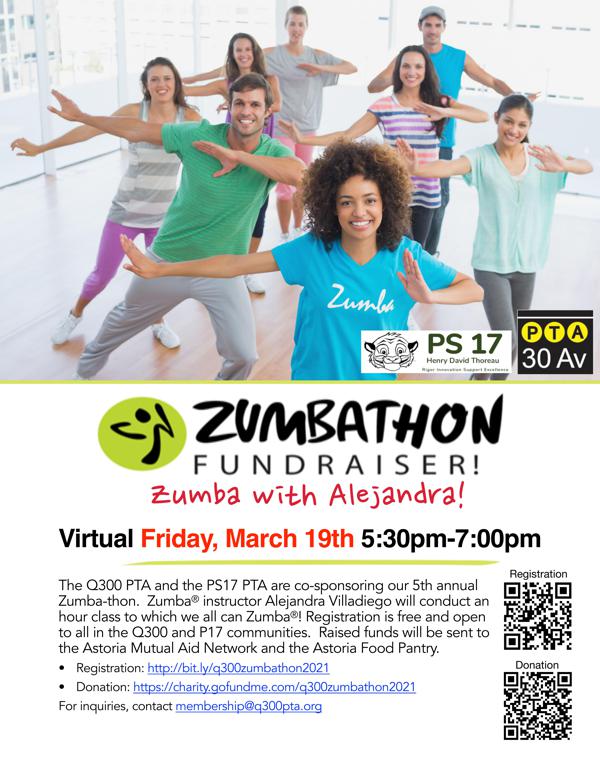 Join us for a night of movement, fun, and community to help our schools raise money for the local community.
The Q300 and PS17 PTAs are so proud to be co-sponsoring our annual Zumba-thon! The amazing Alejandra Villadiego will conduct an hour class to which we all can Zumba!
While we usually raise money for enrichment programs and supplies for all our students at both schools, this year we will raise collective funds for The Astoria Mutual Aid Network (https://www.astoriamutualaid.com) and the Astoria Food Pantry (https://www.astoriafoodpantry.com), both of whom are providing vital resources and support to our families and community during this pandemic.
The class is geared towards adults, but if you think your child can handle it, they are more than welcome to join us! Alejandra creates a supportive and fun-filled environment where we can all have a good time. In general, you should consult your physician before starting this or any fitness program to determine if it is right for your needs. This is particularly true if you (or your family) have a history of high blood pressure or heart disease, or if you have ever experienced chest pain when exercising or have experienced chest pain in the past month when not engaged in physical activity, smoke, have high cholesterol, are obese, or have a bone or joint problem that could be made worse by a change in physical activity. Do not start this fitness program if your physician or health care provider advises against it.