Q300 has once again partnered with Tea Collection (https://www.teacollection.com)! Between March 15-23, 2021 and you will receive 15% off teacollection.com orders and another 15% of those orders' will be donated back to Q300. Stay tuned for notices about our unique promo code needed to place the orders and get the discount and kick back.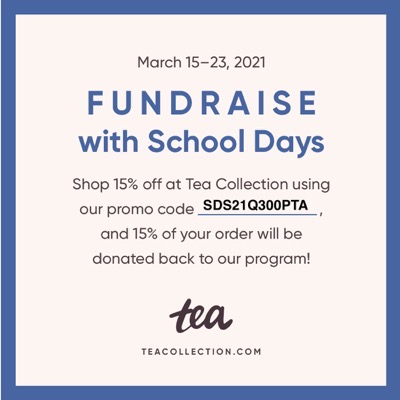 This promo code will be activated at midnight PST on Monday, March 15, 2021, and valid through Tuesday, Mrach 23, 2021. In order for your organization to earn the 15% donated back, be sure any members of your community use this promo code at checkout (by entering the code above into the "Promo Box" during checkout). This is also required for them to get the 15% off their Tea order.
About Tea (from https://www.teacollection.com/about/the-tea-story)
Tea began with the dream to inspire global connection and curiosity for little citizens of the world. We believe that no matter where we live or what language we speak, there is so much we all have in common. We travel the world bringing the beauty of different cultures and modern design to children's clothing.
If you have any questions, please contact the co-VP of Fundraising at fundraising

q300pta.org.