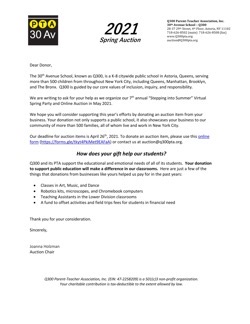 The PTA Auction Committee's work looks a little different this year, but we are thrilled to announce that we WILL be having a big school-wide virtual event in May, so save the date of Sat, May 15th, 2021 for our Virtual Stepping Into Summer Party – a Family Game Night. We're excited to bring this event back because it was SO MUCH FUN the first time! And, we are also happy to announce we will be having an online auction to support our PTA as well!
What does that mean? We need you, our parent community, to help us by donating to the auction or solicit prizes. What sort of donations are we looking for? We LOVE parent experiences! In the past, we've had parents donate homemade meals, professional consultations, photo shoots. Maybe an hour of conversation in your native language? Maybe a pie-crust making demonstration on zoom? Maybe an origami class on zoom for 5 kids? What can your family offer our community? Any questions, please reach out to auction@q300pta.org!
While many of our supporters in the past have been our beloved small businesses that are struggling so much right now, we know there are some businesses and organizations that are happy to support our school. If you own a business or know of one that you feel it is appropriate to ask, please feel free to use the letter [PDF | Word] to solicit a donation. We will be asking any donations of physical items be the responsibility of the donor or the solicitor to arrange for delivery to the auction winner.
To donate auction items, submit the information about your donation items using this online form.
The deadline for submitting donations is Monday, April 26, 2021.
See Summer Party 2021 for more information. For questions or if you're willing to volunteer to lend a hand, contact auction@q300pta.org.