By popular demand, registration for Q300 Fun Run 2021 has been extended to Monday, June 7, 2021.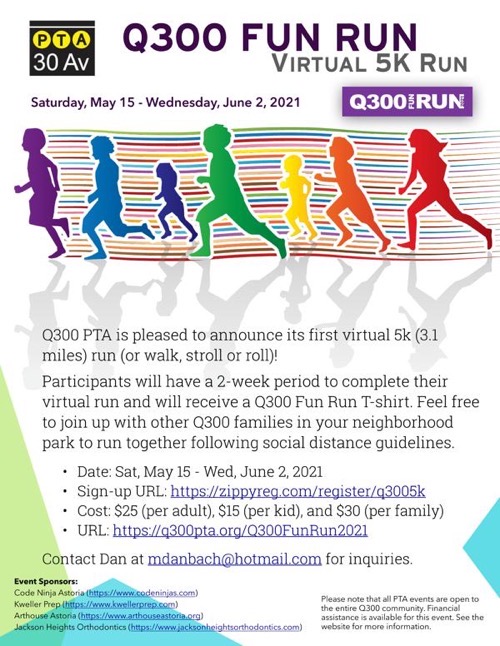 Q300 PTA is pleased to announce its first virtual 5k (3.1 miles) run (or walk, stroll or roll)!
The weather is getting better and we are sure everyone is tired of their kids being glued to the iPads and computers. This is a virtual 5k (3.1 miles) run, (or walk, stroll or roll) conceived to work in our COVID-19 safe and socially distanced environment is ready to launch. You can choose any course you want. Don't worry about the time it takes, take as long as you want. All participants will get a specially designed Q300 t-shirt. The site to join is https://zippyreg.com/register/q3005k
Folks will have a 2-week period to complete the event, from May 15th to June 2nd. Feel free to join up with other Q300 families in your local neighborhoods and parks to do it safely together. Each participant will receive a Q300 Fun Run T-shirt.



Date: Sat, May 15 – Wed, June 2, 2021
Place: Virtual
Cost: $25 (per adult), $15 (per kid), and $30 (per family)
Contact Dan at mdanbach@hotmail.com for inquiries.
If you would like to participate in this event but obtaining ticket will be a hardship, please reach out to counselors Rachel Weiss rachel@q300.org (Lower Division) or Christine Katartzis christine@q300.org (Upper Division) for hardship assistance. All requests are kept confidential.
Event Sponsors

We would like to thank the following Sponsors who have graciously donated to the PTA: Code Ninja Astoria (https://www.codeninjas.com) where kids ages 5-14 learn to code in a safe environment by building video games. Participants gain problem-solving, critical thinking, and STEM skills in a fun, safe, and inspiring environment. Kweller Prep (https://www.kwellerprep.com) which helps students get to the next level of their academic career. This program specializes in competitive middle, high school preparation, Arthouse Astoria (https://www.arthouseastoria.org) is a nonprofit with a mission to bring high quality affordable visual and performing arts education for all ages and abilities to Astoria and the surrounding Queens area and Jackson Heights Orthodontics (https://www.jacksonheightsorthodontics.com) that utilizes proven state-of-the-art technology to not only enhance your experience but also provide you with the most efficient and gentle ways to straighten your smile.