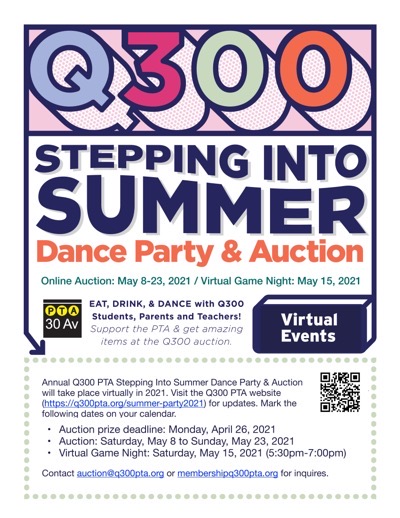 Annual Q300 PTA Stepping Into Summer Dance Party & Auction will take place virtually in 2021. Virtual Stepping Into Summer Party – a Family Game Night – will take place on the May 15th, 2021. We will also have an online auction to support our PTA as well!
Dates:

Auction prize deadline: Monday, April 26, 2021
Virtual Family Game Night: Saturday, May 15, 2021 (5:30pm-7:00pm)
Online Auction: Saturday, May 8, 2021 to Sunday, May 23, 2021

Place:
Tickets: TBD
How Can Q300 Parents and Community Help?
The auction committee has talked about it and we think there's a great opportunity for parents to offer low-cost virtual donations this year. I know in the past I've always been intimidated by the scope of other parent donations, but as Joanna mentioned, some ideas we've thrown around are:
Hosting 45 minutes of conversation in your native language on Zoom
Hosting half an hour of book club or trashy tv discussion (I know there are some Bachelor fans out there!)
What about discussing a foreign movie in a foreign language? Discussing Almodovar in Spanish? Wong Kar-wai in Cantonese? Korean dramas in Korean?
An hour of resume proof-reading
An hour of tech help—how to use WordPress or how to set up a SquareSpace or Six site
An series of software refreshing skills classes—are you great at Excel? Are you a middle-aged person who knows how to use TikTok and Clubhouse?
Hosting 45 minutes tips and tricks on how to use Zoom? (Am I right? I had to resort to asking my third grader to help me set up a work zoom and share screen!)
Half hour craft lesson—origami, cookie decorating, flower arranging?
Yoga or mindfulness class?
Virtual kid classes-can you teach kids simple science experiments or singing or chess or how to make a secret code or paper airplanes?
Online Auction
Auction prize deadline: Monday, April 26, 2021
Auction: Saturday, May 8 to Sunday, May 23, 2021
Visit this page (https://q300pta.org/2021/03/17/call-for-donations-for-q300-virtual-stepping-into-summer-party-2021/) for more information about call for donations.
The Online Auction will take place on the Auctria website.
Questions?
Email auction@q300pta.org or journal@q300pta.org.