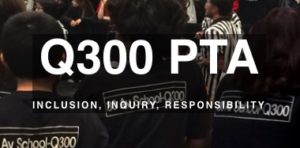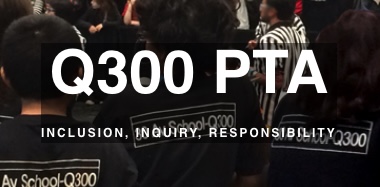 Our special early bird ticket pricing ends Friday April 22, 2016!
Early bird rates are $12 for kids and $22 for adults. After Friday, they rates rise to $15 for kids and $25 for adults. You can send a check in an envelope (Labeled PTA: Auction Tickets, with the amount of adult and child tickets needed) or:
Order Tickets Online by Clicking Here.
(Click on "CLICK HERE FOR MORE INFO & TO BUY ADVANCED TICKETS" and register as a bidder to purchase tickets)

Celebrate Q300 with Parents, Students and Teachers!
DJ! DANCING! FOOD & DRINK! SILENT AUCTION! RAFFLES!
The Event
The Q300 PTA cordially invites you and your family to join us on May 15th for the "Stepping Into Summer Dance Party and Silent Auction" at The Chian Federation in Astoria. Dance the afternoon away as our DJ spins family friendly tunes! An array of delicious food will be served so leave Sunday dinner to us! We will also be hosting a silent auction featuring tons of exciting prizes and raffling off fabulous gifts!
All proceeds will go toward providing continuous PTA-funded enrichment programs for our beloved students.
Date / Time
Sunday, May 15th from 2:00pm – 6:00pm
Location
Chian Federation Catering Hall
44-01 Broadway Astoria, NY 11103
Get Your Tickets
Early bird tickets purchased before April 22: $22 for Adults and $12 for Kids
Tickets purchased after April 22: $25 for Adults and $15 for Kids
Kids under 2 years old are free.
Tickets to the Q300 Stepping into Summer Dance Party and Auction can be purchased online.
To purchase online:
Click on this link
Select the link that reads "CLICK HERE FOR MORE INFO & TO BUY ADVANCED TICKETS"
Enter your billing and credit card information to register as a bidder (create an account)
Sign into your account and purchase your tickets.
Additional Details and Updates
Download the Stepping into Summer 2016 Flyer and check back here or on the Q300 Facebook page for additional information. For now, mark you calendars, save the date and get your tickets!
(more…)