About Kellogg's Family Rewards
Kellogg launched its Family Rewards nationwide fundraising program in the U.S. in 2012. Since then, the program has seen a number of technology improvements – one of which has eliminated the need to collect, clip and save codes! Millions of Kellogg's Family Rewards program members in the U.S. will now be able to collect their points automatically thanks to the use of new technology. Members no longer need to enter codes found on the inside of packages, making it easier than ever for people to collect points and earn rewards. Plus, more Kellogg brands are participating in the program, so more purchases than ever provide points which may be redeemed for high-value coupons, gift cards, sweepstakes and merchandise. Members can also donate to the Q300 PTA to support educational programs, teaching assistants, social activities and other programs that enhance your students' experience.
How to participate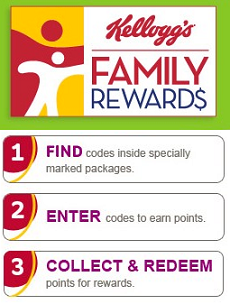 Collecting Kellogg's Family Rewards
step 1
step 2
step 3
Additional ways to collect points (and track Q300's progress!)
Placeholder text
Track & Compare: See how much Q300 has earned and compare it to other schools

Earn More: Earn additional points online and take advantage of specials coupons and other promotions.

Save More: Save on Kelloggs products with new coupons issued every month
To Register for an account, click this link and:
When search for your school, copy and paste the following:
Q300 30th Ave School
Click on Select this school

Provide some basic information to link your account to Q300

Create your login information

If you sign up for the E-Mail newsletter, you'll also have access to:
Bonus Box Tops offers
Coupons and recipes
Weekly updates on your school's earnings
Exclusive free sample offers
How do I donate Kellogg's Family Rewards to the Q300 PTA?
There are three easy ways to get your points to Q300:
step 1
step 2
step 3
Enlist Help Collecting Kellogg's Family Rewards
Collecting and sending in Kellogg's Family Rewards to Q300 isn't limited to Q300 parents and students – enlist family, friends and neighbors. If you get your whole community involved, you'll be making money for our school in no time.